Discover the Top 20 not to be missed adventures
It's Time to Start Your Adventure
It was very difficult to decide on the top 20 things not to be missed while visiting Palawan, but we canvased many of our readers and this is what they decided. For all the other magnificent places to discover, they are of course included within our site.
Beaches
Palawan Has Many Incredible Beaches With Stunning Sunsets And Sunrises.
With 1,780 Islands in Palawan, now think how many Beaches are there?
If you know, please tell us,
You can spend a good part of your life exploring all these incredible lslands.
Here Is Our List Of The Top Beaches, Remember To Keep The Philippines Clean,Salamat!
Explore the World's Longest Navigable Underground River.
The Underground River at Puerto Princesa Palawan Philippines was voted in 2012 by the global community as one of the New 7 Wonders of the World for being the longest navigable subterranean river on January 28, 2012. Prior to this it has also been declared a World Heritage Site by UNESCO
Palawan Wildlife Rescue and Conservation Center
About 20-minutes from Puerto Princesa, Palawan Wildlife Rescue and Conservation Center is a refuge for endangered, hurt, or abandoned animals. The center dedicates itself to the education and progression of the animal species thriving here.
The Crocodile Farm, which raises dozens of young crocodiles to adulthood. The species otherwise may struggle to survive past youth in the wild. You'll see some massive Palawan Crocodiles in their habitat, and if you're lucky enough- you'll be there during feeding time.
There are lots of bird species including eagles, hawks, and hornbills as well as an education museum to peak your curiosity.
Dolphin & Whale Shark Watching
Dolphins are very magical creatures, especially in the wild, and they are very well-known for their acrobatic displays. Watch the dolphins in person, and make your vacation in Palawan, an unforgettable one.
This is a seasonal tour, which is available during the Summer months only (April – October)
Starting from 1500 Pesos
Please be informed that dolphin and whale sharks viewing is NOT guarantee
Tabon Caves
The Tabon Caves are significant for the Philippines as it is home to one the oldest discoveries of human inhabitants. Remains of the Tabon man, along with his artifacts, were found at this very site. Hence, the Tabon Caves are also a National Museum.
When you visit, there are 2 large, cathedral-type caves for you to explore, named the Diwata Cave and Liyang Cave. Hire a boat to take you over and they will point you in the right direction. When you arrive at the caves, it is an Instagram moment for sure. As you walk through, there are small signs detailing out historical information to provide context.
Ugong Rock
Ugong Rock is a natural formation just north of Puerto Princessa that is beautiful and makes a funny noise when you knock on  it. Ugong Rock Adventures is a tour company that has built a triple threat of exhilarating fun around this formation and visitors love it.
Crawl in and out of rock caves with spelunking, climb up to the zipline as it zips you through the jungle at high speeds, and hike through the jungle.
Tubbataha Reef National Marine Park
Off the coast of Palawan in the middle of the Sulu Sea is the breath taking Tubbataha Reef National Marine Park. 
Because of it's location, divers who wish to explore the reef will have to sign up for a live aboard boat where they'll spend a couple days on the water.
Definitely worth the trip, you will see the unspoiled wildlife in its natural habitat. In and around the reef, expect to see green sea turtles, manta rays, many species of sharks, a multitude of colorful fish and more.
Debangan Island, located three to four hours away by boat from Taytay, Palawan. 
For many years, locals of Debangan had relied solely on fishing. But in 2018, the island started gaining attention for its green sea turtles as more tourists visited the island to swim with them. Their amiable nature won their hearts, eventually making green sea turtles Debangan's main attraction.
"It is still possible to interact with the sea turtles while preventing harm at the same time through limiting the extent of the interaction to simply taking pictures and watching them from a distance," PCSD spokesperson Jovic Fabello says.
As the oldest ship in the bay, the Ekkai Maru has had a long and interesting history. Built in 1904 in Greenock (UK), Be sure to check out the top deck of the ship which is littered with massive scroll corals and tropical fish, including schools of damsels, small groups of jacks darting around, clown fish, lion fish, crocodile fish, and even blue spotted rays. You can also pass through the accommodation areas and get a sense of the side of the rooms, which have small pieces of glass and ceramics on the ground. Certification level:  Open Water certification and up.
Starfish Island ( Honda Bay )
Unlike what many people thought about it, starfish island in actually not star-shaped; the name "starfish island" was given to the majestic place because starfishes of varied sizes and colors are found in this place and in fact, this island is actually a sandbar.
Even tourists, both local and foreign find it interesting seeing various starfishes all at one place. It would take about 15 minutes of boat ride from the Pambato Reef.
This island is also known by locals as "Tabuan Island". It is a small island with few cottages that are available for picnicking. Its main island is made up of pristine white sand that is surrounded by greenish waters. and a few palm trees grow.
From Puerto Princesa City, take a less than two-hour van ride to Narra. Get off the national highway in Barangay Malatgao and charter a tricycle going to Estrella Falls in Barangay Estrella Village.San Jose terminal.
Situated at the base of Mt. Victoria, Estrella Falls is a tourist favorite as it never loses its charm year-round. The town's iconic waterfalls was declared a hall of famer in the regional search for the cleanest inland water body.
If you've got more days to spare, you can make Estrella Falls as your jump-off point when you chase 3 more waterfalls up in the mountain!
Wreck Diving in Busuanga Island
Many victors know Busuanga Island as the neighbor to Coron Island. What many visitors don't  know is that aerial attacks in 1944 hit and sunk dozens of WWI Japanese ships right off the coast of Busuanga. Now, these ships make for the most fascinating, awe inspiring wreck dives.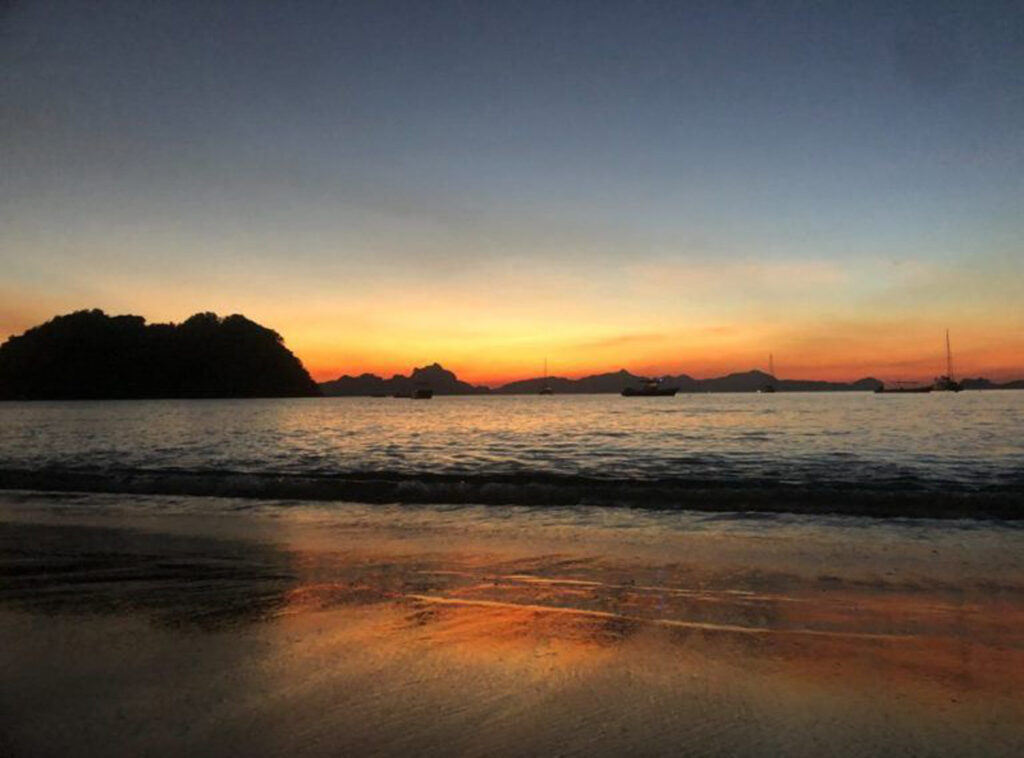 Las Cabanas Beach also known as (Marimegme) El Nido
Has a reputation for the best place to view the sunset in El Nido, Las Cabanas Beach is in fact a continuation of Marimegmeg Beach. not overly crowded compared to other beaches.Great for swimming, snorkeling, surfing,cliff jumping,biking, hiking,fishing is allowed and waterfalls to climb plus so much more.
Cudugnon & Cathedral Caves.
On Tour B there are two caving opportunities.
The first cave is Cudugnon Cave, which was very cool. The boat parks on the beach and then you crawl through a little hole into a hidden area inside the cliffs.
Here there are amazing rock formations and you can actually keep climbing up pretty high. It was remarkable that this cave exists hidden inside the cliff walls, out of view from passing boats. 
The second is Cathedral  Cave is incredible and one of my favorite caves I've visited in the Philippines. You jump off the boat and either swim or kayak in. 
Inside huge stalagmites and stalactites hang from the roof and grow from the floor.
Las Cabanas Beach is famous for its stunning sunsets, so time your zipline adventure to take in the incredible sunset as you zip through the sky.
The zipline is open until 5:30pm, so plan to get there just before it closes, but be warned others may have the same idea as you.
Prices: between 500 to 1,100p. 
One day hire a kayak and go exploring at your own pace without the island-hopping crowds.
Discover your own private paradise and  relax on your own strip of beach with that special someone or just chillout by yourself and enjoy a cold drink and marvel at the stunning views that nature has provided for you.
Here are some places for Kayaking
 Lapus Lapus Beach.
Papaya Beach.
Ipil Ipil Beach.
Paradise Beach on Cadlao Island.
Onuk Island

(also spelled as Onok Island)
It was originally featured in the winning photo of George Tapan for the National Geographic Channel. Today, it's one of the highlights when visiting Balabac.
Onuk Island has few rooms to accommodate guests.
The island is privately owned by the family of the Mayor of Balabac and prior arrangement is necessary for tourists visiting or staying in the island.
Packaged tour to Balabac via Gala PH. Gala PH offers joiner tours (scheduled dates) or exclusive tours (min 10 pax) to Balabac,
The Best Fiestas and Festivals that are being held throughout the city of Puerto Princesa and in the other municipalities of Palawan.
During these festivals, the people of Palawan would usually conduct colorful street parades and wear creative costumes. These street dances are considered the highlight of the competitions during festivals.
The people of Palawan are given the opportunity to exhibit their unique culture, each municipality's delicacy, and products and many other things related to the festivity.
Head for the white sandy beaches, make a beeline for many island hopping tours or soak up beach cafe culture in a friendly town. Diverse scenery and unique culture mean there is a wide range of distinct places to visit in Palawan
Voted for the fourth year in a row as the Worlds Best Island in 2020, by T&L magazine and in the top diving destinations in the world
Palawan consists of 1,780 islands of pristine white beaches, dramatic rock formations, secret coves and underground mysteries. An untamed land, a nature lover's paradise and an adventurer's dream.
Palawan certainly lives up to its image as the last frontier, what are you waiting for?