Enjoying the waters too much? Then the limitless water activities that the Island of El Nido, Palawan offers are just perfect for you. Exploring lime stones, sunbathing, swimming, snorkeling, bird watching – do all these for as low as PHP 3,900.
Top 10 Things To Discover In El Nido
You can Hire a Private Chartered Boat if you wish.
As a solo traveler it's cheaper to join a group tour, however if you're travelling with a group of friends getting a private boat can work out cheaper and more fun!
A chartered group tour these fees are usually included in the tour fee.
The island hopping tours in El Nido are organized into 4 different itineraries (creatively named, A, B, C, & D). Generally, Tour A is known for lagoons and beaches, B for caves and islands, C for great snorkeling and a shrine, and D somewhere in between, featuring island beaches
From San Jose terminal in Puerto Princesa City, take a five-hour van ride to El Nido.
In El Nido downtown, you can rent a scooter and drive for 30 minutes to the jump-off in Barangay Pasadena.
1,000 pesos (includes entrance and tour guide fees, as well as transportation fee)
During the rainy season, thrill-seekers are heading to Barangay Pasadena to see the Nagkalit-Kalit Falls. The hike from the jump-off along the highway to the falls lasts 45 minutes. It's a long walk, but well worth it for what what awaits you, is a whitewater view that is spectacular.
After winding through the forest with some muddy, ascending paths and lots of river crossings, you can finally take a dip in Nagkalit-Kalit Falls' cold pool.
El Nido's beaches are rich in marine life and there are more than 30 dive sites ranging in depth from six meters to 30 meters. Experiencing life underwater is an amazing adventure that you never forget.
Get yourself PADI Certified.
 It is 3 days and cost $400 USD each including a day of theory/exam and 6 dives both in confined water and open water.
If you don't want to get your certificate, they still do introductory dives.
Snake Island is one of the most unique spots in El Nido as it connects the mainland to an island at low tide while at low tide it is a sandbar two feet under water.
One of my favorite places and the reasons are self explanatory.
Another great memory and for those Instagramers you will not be disappointed.
This is another trip not to be missed, well worth the time.
EL NIDO ISLAND HOPPING B TOUR
Zipline Down to Las Cabanas Beach
Las Cabanas Beach is famous for its stunning sunsets, so time your zipline adventure to take in the incredible sunset as you zip through the sky.
The zipline is open until 5:30pm, so plan to get there just before it closes, but be warned others may have the same idea as you.
Prices: between 500 to 1,100p. 
 Your options:
Sitting position – one way – 500PHP
Sitting position – return – 900PHP
Superman position – one way – 700PHP
Superman position – return – 1100PHP
Combination of both positions – return – 1000PHP
Hours of Operation: 9am- 5:30pm.
You can walked back to where you are staying on Las Cabanas Beach across the sand bar that joins the two islands, but you can also zipline back.
( For an Extra Fee)
A 30-minute journey to the summit but it's also incredibly tough with extreme humidity and sharp rocks. So be warned to have appropriate  foot wear & water.
The entrance to the hike is at a small little neighborhood next to 'Skyline Bar'.
I highly recommend getting an experienced guide.
Bryan is the go to guy in the area.
He will provide headlamps, gloves (for the sharp rocks) He will set up a meeting point in time to reach the summit for sunrise. Average cost is around $10 USD per person.
There are some sections that are relatively vertical but not to extreme, amateur hikers young and old are on the trail so don't be fearful of this hike because of the sharp rocks.
I would Rate the difficulty for this hike moderate to above average.
The peak isn't dangerous at all if you stay in the middle of the rock formations.
But then again if you decide to venture out to the extreme edges, then please be warned, ( Caution)
The view is stunning well worth the sweat, A total Instagram Moment.
One day hire a kayak and go exploring at your own pace without the island-hopping crowds.
Discover your own private paradise and  relax on your own strip of beach with that special someone or just chillout by yourself and enjoy a cold drink and marvel at the stunning views that nature has provided for you.
Here are some places for Kayaking
 Lapus Lapus Beach.
Papaya Beach.
Ipil Ipil Beach.
Paradise Beach on Cadlao Island.
Looking for a kayak to rent for your El Nido adventure?
Message us!
We are kayak rental business in El Nido, Palawan which also offers private boat for hire, island hoping tour booking, and motorbike for rent.
Nacpan-Calitang Twin Beach
Separated by a small cape that features a viewpoint, Nacpan and Calitang are respectively 500 meters and 3 km long. stretch of cream sand beach with swaying coconut trees. It is generally very quiet compared to the other beaches.
With stunning views and breath taking sunsets.
Located in Sitio Calitang, approximately 17 kilometers north of El Nido town,
If you're in El Nido, make sure to visit Verde Safari Beach.
The Beach is located  approximately 30 kilometers north of El Nido.
It will feel like your own private beach.
SUNSET AT LAS CABANAS BEACH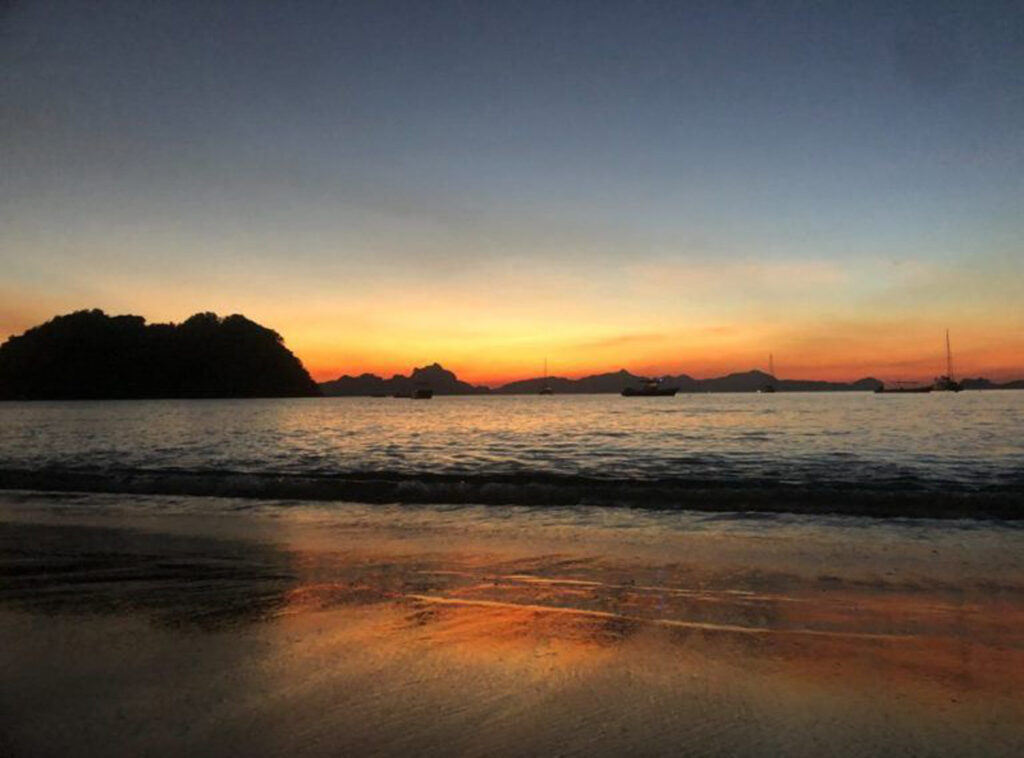 Cudugnon & Cathedral Caves
On Tour B there are two caving opportunities.
The first cave is Cudugnon Cave, which was very cool. The boat parks on the beach and then you crawl through a little hole into a hidden area inside the cliffs.
Here there are amazing rock formations and you can actually keep climbing up pretty high. It was remarkable that this cave exists hidden inside the cliff walls, out of view from passing boats. 
The second is Cathedral  Cave is incredible and one of my favorite caves I've visited in the Philippines. You jump off the boat and either swim or kayak in. 
Inside huge stalagmites and stalactites hang from the roof and grow from the floor.
Under the surface, the water has a luminescent glow so definitely bring your snorkel to enjoy this cave.
 Make sure you go all the way to the back of the cave to look back towards the entrance to check out the view.
Mad Monkey |   is a lively hostel on beautiful Nacpan Beach, outside El Nido. Spend the night, or visit us for delicious food and cocktails on one of Palawan's most stunning beaches.
Outpost Beach Hostel | Purveying lifelong memories since 2017, Outpost strives to exceed expectations in the hostel industry. Having been created by former backpackers and lifelong travelers, Outpost Hostels balance comfortable and modern accommodations with a healthy dose of socialization.
Frendz Hostel El Nido  | Featuring a restaurant, outdoor swimming pool, bar and free WiFi, Frendz Hostel El Nido is located in El Nido, 1.1 mi from Ipil Beach 1 and less than 0.6 mi from Big Lagoon El Nido. This 1-star hostel offers a 24-hour front desk and luggage storage space.
Lime Hotel El Nido  | Is a 200 room 4 star hotel overlooking El Nido Bay's famous sunset with a cruise ship inspired architectural design. The hotel will include an infinity pool on the edge of its exteriors that compliments its sharp features, running down into strips of high-end private rooms.
Lagún Hotel| Is the first boutique hotel in El Nido town. Its 37 spacious rooms, the smallest of which is 26sqm, can accommodate a maximum capacity of 133pax. One of the first hotels in El Nido which has service elevator for the guests' convenience. A PWD room is also available. All rooms are equipped with first class facilities and services for a worthwhile stay and experience. 
Matinloc Resort : Featuring  a spa center, Matinloc Resort offers accommodations in El Nido, 2.6 mi from Big Lagoon El Nido. The resort has a private beach area and water sports facilities and free WiFi.
Each room at this resort is air conditioned and has a flat-screen TV. Certain units have views of the sea or garden. Rooms include a private bathroom. Extras include bathrobes, slippers and free toiletries.
El Nido Resorts Lagen Island: Not only is it a paradise for ocean lovers but for nature lovers too because of the variety of birds and mammals that can be found on the island.
The resort features 51 rooms, made impressively using materials recycled from old Filipino homes. Rooms are fully furnished with full-height sliding glass doors with options of a forest view, water view, or cove view.  All room types can accommodate up to three people and come with convenient access to the clubhouse and the pool.
El Nido is located in the north of Palawan, about 230 kilometers from Puerto Princesa. 
Traveling by sea has no ferries, except if you wish to go by private boat which i would not recommend, for it would be very long and uncomfortable.
You can take a shared Van or a Private Van for 5 – 6 hrs
Depending on traffic.
The cost is approximately
600p – 700p. per person.
Private Van : 6000p – 7000p
San Jose Bus Terminal can be reached by tricycle. Distance from the airport to the terminal is 6 km. Cost about 50 — 150 pesos for one-two persons.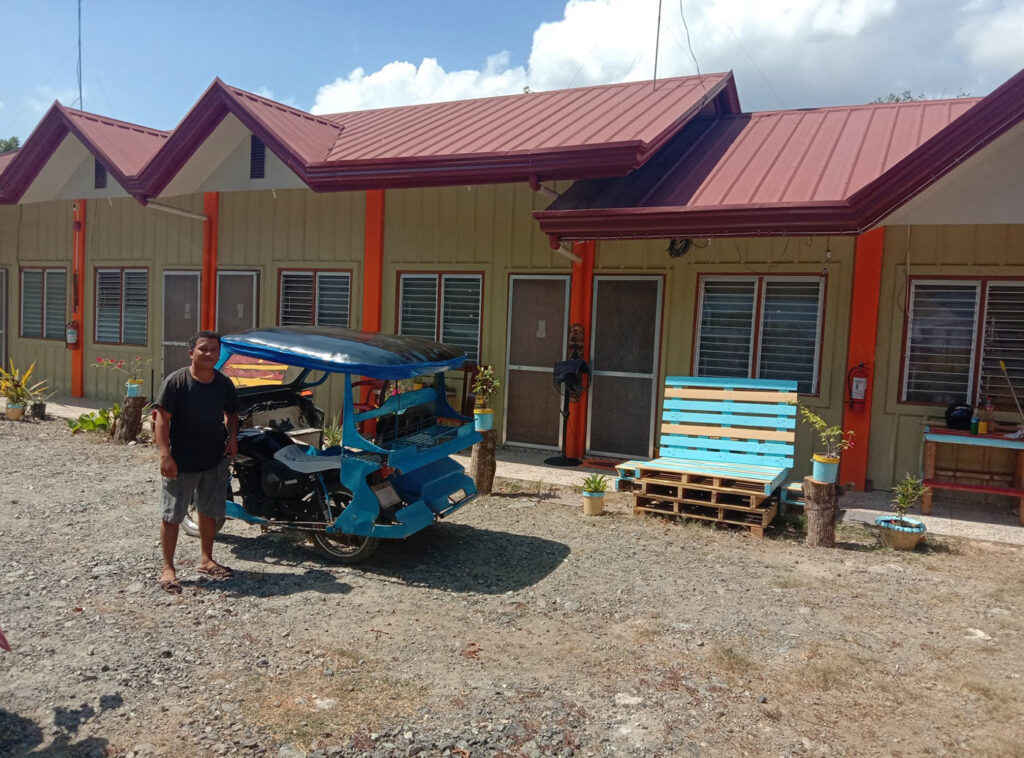 It's a pretty small town and most things to do in El Nido can be reached by foot.
You can also hire a Trike, they are pretty inexpensive , just make sure you are in agreement with the driver so there is no misunderstanding.
 From the town to the Zipline or Las Cabanas beach you're looking at 50-100p then anywhere further a field like Nacpan Beach you're looking at about 500p  for a tricycle one way
Head for the white sandy beaches, make a beeline for many island hopping tours or soak up beach café culture in a friendly town. Diverse scenery and unique culture mean there is a wide range of distinct places to visit in El Nido.
Voted for the fourth year in a row as the Worlds Best Island in 2020, by T&L magazine and in the top diving destinations in the world
Palawan consists of 1,780 islands of pristine white beaches, dramatic rock formations, secret coves, and underground mysteries. An untamed land, a nature lover's paradise, and an adventurer's dream: 
Palawan certainly lives up to its image as the last frontier, what are you waiting for?