It's Time to Start Your Adventure
The "longest white beach in the Philippines," the Long Beach of San Vicente is 14 kilometers of undeveloped shoreline, more than three times longer than Boracay's White Beach. It now has its own airport inaugurated in May 2018..
There are two major settlements in the municipality: the Poblacion area and Port Barton. The Poblacion area lies on one end of Long Beach, which spans the coast of Barangays New Agutaya, San Isidro, and Alimangoan.
Port Barton, often mistaken as a separate town but is, in fact, just a barangay within San Vicente. The confusion stems from the fact that when locals say "San Vicente," they usually refer to the town proper.
There are no banks or ATMs in San Vicente, so make sure you have small denominations of pesos with you before you arrive. Withdraw or exchange while you're in Puerto Princesa or Manila.
Top Things to Do in San Vicente
The Longest White Beach in the Philippines,14 kilometers of undeveloped shoreline, 
Powdery sand beach that is broken up by rocky outcrops, lined with coconut swaying trees and clear crystal waters, untouched beauty with breath taking sunsets.
Long Beach is about one hour north of Port Barton, 4 hours north of Peurto Princesa and three hours south of El Nido.
Naonao Beach
Relaxation and adventure, NaoNao Beach is perfect for you. The beach is famous for its towering coconut trees, white sandy beach, and of course, its azure crystal clear waters.
You can also explore the beauty underneath its waters. There's a 70-hectare coral reef that you can explore if you're up for some diving.
Then you can relax and chill  in one of the tropical cottages and try some fresh seafood.
San Vicente has 22 islands off its coast, which is laced with dozens of beaches. Many of these islands and coves are easily accessible from Poblacion. You can join a group tour or charter a boat to Port Barton and these islands:
Tour A is the most popular option and includes six stops – Twin Reef, Wide Reef, Inoladoan or German Island, Turtle Place, Exotic Beach and Starfish Sandbar. Most stops are around 40 minutes except for Inoladoan where you'll be given a few hours to relax on the beach while lunch is being prepared.
Tours B, C and D each have slight differences to focus more on snorkelling spots, beautiful beaches, waterfalls or local villages.
Cost:  1,200₱  including lunch, snorkel and island fees. I had seen a range of prices listed online but it seems that the cost of tours are now standardized across all agencies.
You can also book a customized private tour for around 2,500p and going up depending on how many Islands you wish to visit.
You'll also need to pay a 50₱ environmental fee.
Inoladoan Island
It is also sometimes called Inaladelan Island and German Island. Inoladoan Island is one of the most popular islands included in Port Barton island-hopping tours. 
Most people go here for a day trip, but you can also stay longer at its prime resort, the Inaladelan Island Resort.
If you've always wanted to sleep in a tent by the beach, this island in San Vicente is perfect because you don't have to deal with big crowds and loud partying.
The locals call it the German Island because according to them, a German guy lived on the island for 20 years. Its undisturbed beauty gives you that Robinson Crusoe feeling when you visit.
Pamuayan Falls Port Barton
To reach Port Barton, you can ride a bus, go on a van or rent a motorbike. All buses and vans to Port Barton leave from San Jose Bus Terminal which is about 5 km from Puerto Princesa City. Take a tricycle or a multicab to get to the bus terminal.
The falls are located 5 km from Port Barton. The waterfall itself is not huge, but it's a lovely spot for a morning hike through the forest and offers up a refreshing spot for a dip.
To get there, you can either walk the 3 km along the new road before entering the forest or take a tricycle (around 150₱. If you wish to walk, start at the beach and walk to the far end where you'll emerge at the road. Turn right and shortly you'll see a rocky track leading off to the left. You can either stick to the main road or follow this dirt track which is more direct and will lead you past a cemetery before linking back to the main road.
From here, it's just 1 km downhill along the newly built road where eventually you'll see an obvious dirt road veering right which you'll need to take.
BIGAHO FALLS
Towering at 50 feet (15 meters) high, the falls can be reached by a 20-minute boat ride.
The falls can be easily accessed by taking one of the local boat tours from either San Vicente or Port Barton. Your tour will typically land on the stunning Mahilamonen Beach where you will find the Caparii Beach Resort, which is an excellent vacation getaway boasting total seclusion and privacy. There is also plenty of other budget-friendly and luxury accommodations near the falls.
The falls was only accessible by boat, but now there is a rough road that allows for motorbikes to reach this remote part of the island. But most people will choose to access Bigaho Falls and choose to take a boat tour
The falls are seasonal and dry up from March to early May.
Swim with Sea Turtles
The relatively pristine marine environment of San Vicente is one of the best places in Palawan for spotting sea turtles, which are locally known as pawikans. If you are lucky you'll get a chance to see two endangered species of sea turtles in San Vicente, the Green sea turtle and the Hawksbill.
Skydive Greater Palawan
If you ever wanted to try skydiving, visit Skydive Greater Palawan.
There's no prior experience required if you want to try this activity. If you're a newbie, you tandem skydive with one of the world-class instructors and just enjoy the views. If you're an experienced skydiver, you can do so on your own.
Closed for now, waiting for the re-opening
Dine & Drink in San Vicente
Junglebar – peacefull and nature guest house, in the jungle of port barton. close to the most beautifull beach
San Vicente Accommodation
Picardal Lodge, Poblacion |  is the best choice for travelers on a budget.We are situated in the heart of downtown with easy access to the various tourist destinations
Picardal Lodge is home to seven (7) cozy rooms all at affordable rates. Our fan-ventilated room where two guests can relax and recharge.
Victoria Beach House, Alimanguan| offers accommodation along the 14.7 km long White Beach in San Vicente, Palawan. Located on the northwestern side of the mainland, views of the sunset can be enjoyed.
All rooms are air-conditioned and are equipped with a private bathroom, shower, terrace/balcony and hot/cold water.
Bai Bai Resort| A beachfront villas resort in the heart of Long Beach that can offer a perfect scenery of 14.7 kilometer white sand beach and dramatic sunset of San Vic which is perfect for your holiday.
April's Tourist Inn | is committed to ensuring that your stay is as comfortable as possible. Top features of the hotel include daily housekeeping, express check-in/check-out, tours, laundry service, bicycle rental.
In addition, all guestrooms feature a variety of comforts. Many rooms even provide towels, non smoking rooms, fan, toiletries, shower to please the most discerning guest.
Besaga Beachfront Bed & Breakfast, Port Barton, San Vicente

A classic island vibe bed and breakfast in Port Barton, San Vicente 
Beachfront area, with four cottages, and a beachfront cafe where everyone can spend quality time, and also a place to meet and make new friends.
We also book and accept island tours, waterfall tours, boat trips for diving and snorkeling, boat for hire, van for hire, bus/van trips, and laundry.
We serve food and drinks at the cafe and restaurant, and we also research and develop new and different dishes to satisfy your taste buds.
Jurisu Resort: is located only a few steps from the famous
San Vicente 14 Km Long Beach and 15 minutes away from the newly opened San Vicente, Airport!!
We have direct access to the beach front and the main road. A perfect and excellent get-away spot for anyone looking to spend some time in San Vicente, Palawan.
How to get to San Vicente
Renting a Car, Van, Suv & Pickups
When traveling the 175.5 km distance from Puerto Princesa to San Vicente. About 3 hours.
Best Car, Van & Motorcycle Rentals in Palawan. Get The Best Holiday Packages Today. Call  or Text Us Today For Best Rates. Check Our Specials. Contact Us For Best Selection. Book Your Reservation. Ask Us About Our Vehicles.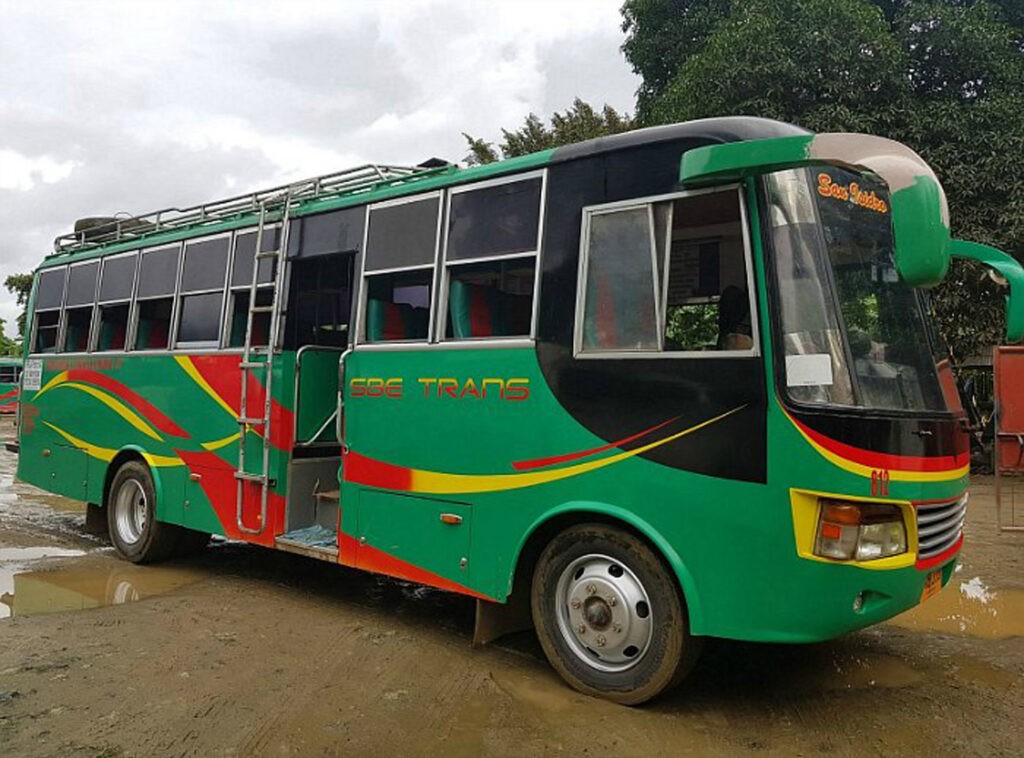 You can take the local bus for 4 – 5 hours
Depending on traffic.
The cost is approximately
200p – 300p.
At San Jose Terminal, board the bus bound for San Vicente. There are two trips daily:  at 6am and the other at 1pm. Make sure you board the right bus. Don't ride the bus going to Port Barton or El Nido.
San Jose Bus Terminal can be reached by tricycle. Distance from the airport to the terminal is 6 km. Cost about 50 — 150 pesos for one-two persons.
Shuttle Van
You can take a shared Van or a Private Van for 4 – 5 hrs
Depending on traffic.
The cost is approximately
300p – 400p. per person.
Private Van : 6000p – 7000p
Departs from Terminal: 4am – 5pm
Virus Shuttle Vans
Puerto Princesa to San Vicente: 4am, 1pm, 5pm
San Vicente to Puerto Princesa: 4am, 1pm, 5pm
Contact: 0998 577 5008
Cathy Transport Vans
Puerto Princesa to San Vicente: 8am, 2pm
San Vicente to Puerto Princesa: 7am, 2pm
Contact: 0946 191 2528
Jose Bus Terminal can be reached by tricycle. Distance from the airport to the terminal is 6 km. Cost about 50 — 150 pesos for one-two persons.
Travel Time from Manila is about 1 hour, and from Clark is about 1hr & 40mins.
The San Vicente Airport is very close to the Poblacion or Long Beach. You can hire a tricycle to your hotel.
Tricycle fare is around 75 per person.
Make sure you come to agreement before setting off on your rise with the driver.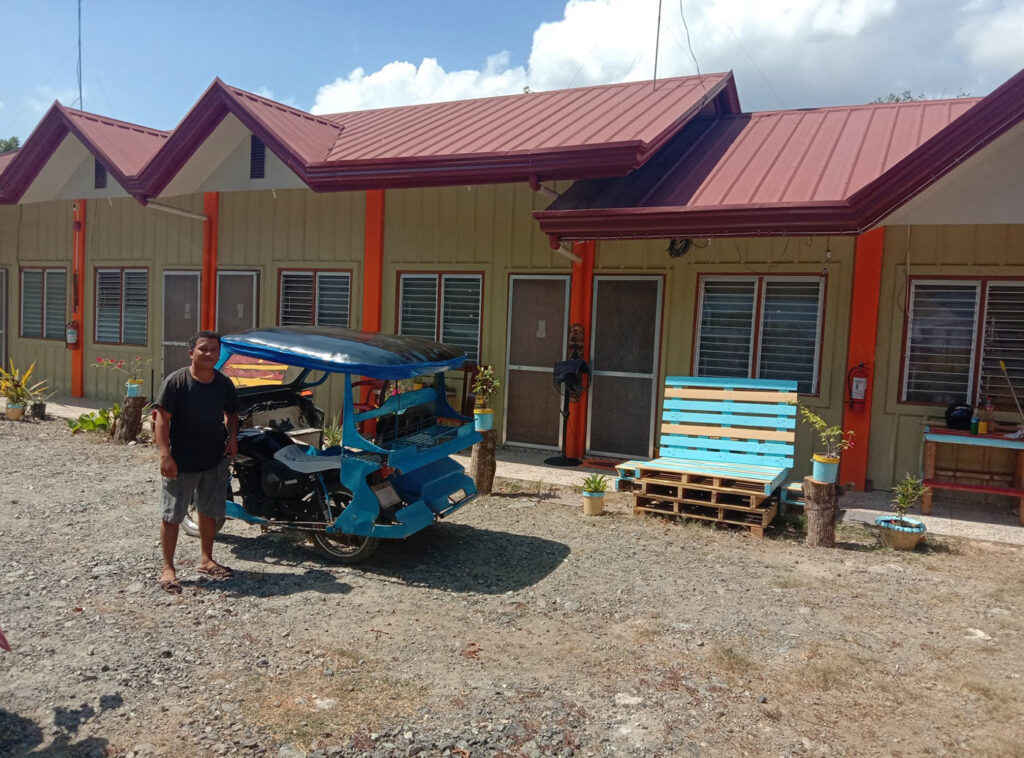 Getting around Town
You can also hire a Trike
Make sure you come to agreement before setting off on your rise with the driver.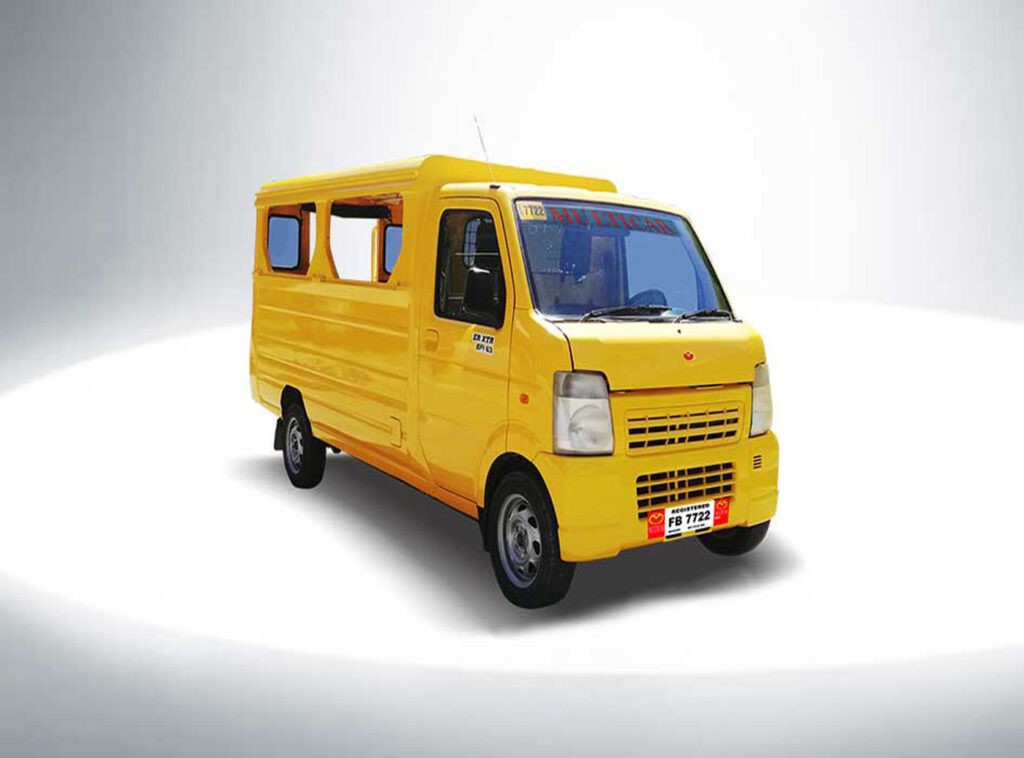 Multicabs Are All Over Over San Vicente Very Cheap
Multicabs (Jeepneys) are very inexpensive and easy to get around San Vicente, just flag one down.
Head for the white sandy beaches, make a beeline for many island hopping tours or soak up beach cafe culture in a friendly town. Diverse scenery and unique culture mean there is a wide range of distinct places to visit in Port Barton.
Voted for the fourth year in a row as the Worlds Best Island in 2020, by T&L magazine and in the top diving destinations in the world
San Vicente consists  of pristine white sandy beaches, dramatic rock formations and secret coves. An untamed land, a nature lover's paradise, and an adventurer's dream: 
San Vicente certainly lives up to its image as the last frontier, what are you waiting for?