Port Barton Scuba Diving & Snorkeling
Top Scuba & Snorkeling Diving Spots In Port Barton
Port Barton has some great coral diving for beginners and advanced divers alike, as well as some good snorkeling. The dozen or so most popular dive sites are about half an hour out to sea and comprise the fringing reefs around the offshore islands and seamounts.
There are a large number of rare tropical fish, such as angelfish, squirrelfish, clownfish, lionfish, gobies, large grouper, turtles, soldierfish, clams, tangs, blacktip sharks, and tiger sharks.
The best time to scuba dive at Port Barton is December to May. There is almost constant rain from June to November. The average air temperature is 26-28C/78-82F. The water is warmest from May to July, averaging 26-30С/79-86F. Visibility is good, more than 40m/131ft. Currents vary from weak to moderate.
The site is situated on the north-western corner of the Cabilao Island, that's why there is often a current. Shark Point presents a plateau, covered with fan corals and teeming with marine life, especially with sharks. Here schools of hammerheads and white-tipped, black-tipped and reef sharks can be seen from December to June. Also divers can spot rare pygmy and thorny seahorses, napoleons, shoals of barracudas and jackfish, as well as ballan wrasse. The floor is also covered with soft corals and gorgonians, with garden eels and many different nudibranchs swimming among them. Access From Shore, From Boat Diver level Advanced Depth Average: 22 m Maximum: 30 m Current Medium ( 1-2 knots) Visibility Average: 10 m Maximum: 30 m
Middle rock is a rocky dive site covered with hard corals. You might see Spanish mackerel cruising by or some of the huge bumphead parrotfish that call this area home shoals of 20 or more are not uncommon.
The steep walls of this seamount boast some of Port Barton's best hard and soft corals. At this site, divers can see all kinds of tropical reef fish – angelfish, pufferfish, lionfish, soldierfish, tangs, gobies, squirrelfish and more. Royalist Shoal can reach depths of 40m, but at 12m the coral is amongst the best in the area.
Ten Fathoms is another seamount, but is a little deeper than Royalist Shoal and, therefore, is more suitable for advanced divers. At Ten Fathoms you may see hammerheads, leopard and nurse sharks. Corals are everywhere and grouper and snapper are regularly seen. Depth: 10-40m+ Viz: 5-35m Currents: can be strong in places
Wilson Head rarely has a current to bother with, and the shallow reeftop makes this a good snorkeling venue. Swim into the depths of some of the best snorkeling sites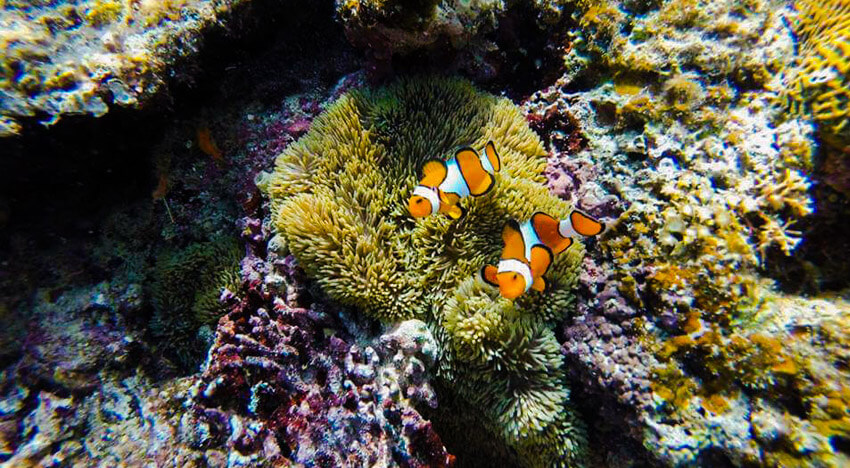 Aquarium Four is teeming with marine life ideal for snorkeling. It's also perfect for families with children since, at its deepest point, it's only about 2 meters deep.
There are two islands here and the water between them is shallow and perfect for snorkeling. There's also a sandbar here that lets you walk out quite far into the water. A good place for a swim and for having lunch on the beach.
Like it's name suggests, this is a fantastic reef close located close to Double Island. There are beautiful green corals here that are home to a large variety of fish and other aquatic life.
About 2.5 meters under the water at its most shallow point. It is in the bay near the sand bar and quite close to the Port Barton beach. The ocean currents were quite strong around mid-day, so better to plan your swim earlier in the morning, there were some nice corals and fish.
Port Barton has some great coral diving for beginners and advanced divers alike, as well as some good snorkeling. The dozen or so most popular dive sites are about half an hour out to sea 
It truly is a paradise. So before you plan your next diving vacation, remember that Palawan was Voted Best Island in the World again in 2020 for the fourth year in a row.
Thousands of Nautical miles of open water to explore, herald Palawan as a water sports mecca.