Dumaran covers the southern part of the Dumaran Island where the Poblacion is situated as well as a portion in mainland Palawan.
Dumaran, is one of the municipalities in the province of Palawan. The Municipality has 7 islands including the town center (this is definitely good for island hopping) and 16 barangays on the mainland. It is also a home of red-vented cockatoo locally known as "Katala" or "Kalabukay", an endangered species of birds that was successfully preserved in the area. As a celebration for this, the Katala Foundation and the local government of Dumaran, invented the Kalabukay Festival way back in 2005 which is celebrated along with the Founding day of the municipality and takes place annually from June 14 to 16. During the festival, the government has various activities such as sports, pageant, singing competition and others. The Festival promotes the conservation of the red-vented cockatoo, as well as the attractions and culture.
How to Get to Puerto Princesa
The best route from Manila or Cebu is to fly into Puerto Princesa, International.
Many Flights  are available to Puerto Princesa from Manila it takes about 1.5 hours non stop.
From Manila, Cebu, and Boracay
Price Per Person Staring at 1600 Pesos, book early for a better deal.
| Manila Departure | Puerto Princesa Arrival | Puerto Princesa Departure | Manial Arrival |
| --- | --- | --- | --- |
| | | | |
Operates once a week sailing from Manila to Puerto Princesa & Coron and vice versa.
Price per person starting from 1300. pesos
Rio Tuba in the town of Bataraza is the gateway to Balabac Islands.
When to go: It's advisable to go to Dumaran during the dry season between November and early June. The road leading to Dumaran is rugged and largely unpaved and it turns to mud and is almost impassible in the rainy season.
The town is accessible via public transportation such as buses or shuttle vans. However, the road leading to this hidden paradise is not easy to pass through. It is narrow, rugged, and largely unpaved; which is one of the tangible proof of the town's underdeveloped status.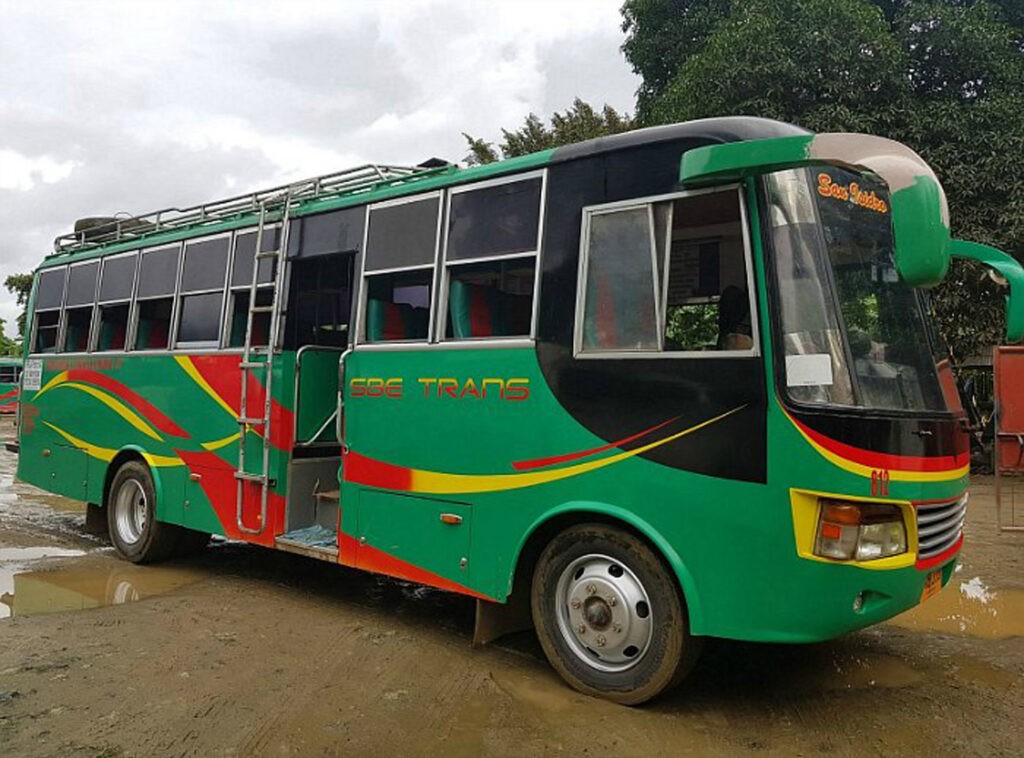 You can take the the local Bus for 5 – 6 hours
Depending on traffic.
The cost is approximately
275p – 450p.
Starting at 5:00 am
Santa Teresita,Dumaran it is a 231km from Puerto Princesa.
San Jose Bus Terminal can be reached by tricycle. Distance from the airport to the terminal is 6 km. Cost about 50 — 150 pesos for one-two persons.
Cell: 0919 4455 021 / 0995 1629 155
Landline: 434 1613
You can take a shared Van or a Private Van for 4 – 5 hrs
Depending on traffic.
The cost is approximately
470p – 500p. per person.
Private Van : 6000p – 7000p
Ride a van bound for Santa Teresita,Dumaran it is a 231km from Puerto Princesa.

Vans usually leaves by 3:00 am – 5:00 am.
San Jose Bus Terminal can be reached by tricycle. Distance from the airport to the terminal is 6 km. Cost about 50 — 150 pesos for one-two persons.
Balai sa Ags
Balai sa Ag's welcomes everyone in its budget-friendly lodging houses and delicious meals to go with the feel-at-home vibe of the place.
This is a very basic lodging house with three rooms and two simple huts that were being renovated. There is a simple toilet in the rooms but no shower. You have to scoop water from a drum outside for your morning shower. Mosquito nets are provided and one can eat in the canteen , choice of several plates of prepared food, or eggs, noodles and a few simple dishes can be cooked on request. Brownouts are common here so bring your flashlight. This is very cheap, less than $5 a room, but the owner is very friendly and accommodating
Due to the fact that Dumaran is one of the less developed towns in Palawan, tourism-oriented destinations are also few. This leads to lesser rental cottages and other accommodations in the area. It is highly recommended  that you arrange your accommodation beforehand to avoid any complications.
Upon arrival to the wharf in Barangay Sta. Teresita in Dumaran, you will have to board a boat in order to reach the island barangays where stunning views and experiences await your arrival.
Top Things To Discover in and About Dumaran
Calampuan Island
Calampuan is another gorgeous destination that you would love to feast your eyes with. It is often dubbed as the 'Perfect Island Getaway' due to its crystal clear waters, astounding coral reefs, and lush green forestry.
This island is an encouraging location for backpackers to go for overnight island camping, tranquil and pristine.
The stunning coral reefs cannot also be left behind. Who wouldn't want to swim with all the various types of marine life as you snorkel over the beautiful reefs in Calampuan island?
 In Dumaran, you will find the ruins of a
Spanish Fort
which is
an interesting historical site
in the vicinity. Its walls are even still intact despite the span of time that it has been there without proper maintenance!

Oral tradition claims that the fort was never finished. This is then backed up by the inspection of the evidence that shows that the fortification of the fort was never finished. According to findings of archaeologists, the bastion of the fort has an unusual shape which consists of around projection at its center flanked by two short walls. The bastion does not conform to any typical shape and it is quite probable that the rounded projection is due to an older construction – most probably a circular tower of stone and mortar which was later on molded into a bastion.
Encantasia Island

The Encantasia Island which, as said by the locals, is an island that is not yet included in the map of the islands in the Philippines. It is among the smallest islands in the municipality where you can find amazingly clear waters that will enable you to see the coral reefs underneath.
Due to its astounding clarity, it is one of the famous snorkeling spots that you could visit in Dumaran.
Ilian Waterfalls
Ilian Waterfalls is a hidden beauty located on the mainland of Dumaran. Enjoy the cool fresh water from the waterfalls along with the relaxing ambiance by being surrounded by rich greenery from the trees that tower in the area.
However, make sure not to leave your garbage behind since it is harmful to the environment. Take pictures, keep great memories.
Pack in Pack it Out!
Isla Pugon is an island that is virtually surrounded by a thick, lush mangrove forest which you will have to get through when you go to the island.
It only takes about fifteen to twenty minutes from the jetty of Isla Pugon to reach the mainland wharf. Climbing to the top if Isla Pugon is an effortful activity that, we assure you, would be very rewarding. At the top of Isla Pugon is a breathtakingly beautiful view of the vast mangrove forest which extends to the beach with a stunning background composed of the majestic mountains near the vicinity.
Isla Pugon has nipa huts that could accommodate guests but electricity and water will be quite a challenge. However, fear not! They use solar power for lights and for charging electronic devices. And due to the scarcity of water, they use water less and odorless toilets.
If you would stay in Isla Pugon for the night, make sure to wake up early the next day to get the chance of enjoying one of the best suns rise views you could get in the province of Palawan.
This is a Backpackers Paradise!
Maraneg Beach is one of the most beautiful beaches in Dumaran where the sand is undoubtedly white and fine. The beach has almost no tourists and is quiet which would definitely make you feel as if you own the beach for the day.
You can stay overnight here! However, you will have to bring your own tent or hammock since there are still no available accommodations in the area yet.
Maruyog-ruyog island is a wonderfully serene location where you may set up your lunch. It is a very private place with big cottages.
It is also a good place to take short siesta before proceeding with your adventure in the stunning islands of Dumaran.
It is also a great place to take photos of you and your friends or family members who you are traveling with!
It has a striking white concrete plank that dramatically whines from the shore towards the cottages which render most tourists in awe a great Instagram moment!

Matarawis Reef
The Matarawis Reef is another site that is thickly covered with diverse corals and rich underwater biodiversity.
This destination, however, is shallow enough that you can see the corals just by sitting on the boat.
From the boat, you will be able to see the largest clams you might get to see in your entire life! Aside from that, there are also palette surgeon fishes which are widely known as the 'Dory fishes'.
Pamalatan Island
Pamalican Island is a small island of the Cuyo Islands in the Sulu Sea, between Palawan and Panay, in the north part of the Palawan Province of the Philippines. The island is set in the middle of a 7-square-kilometre coral reef.
Pamalatan Island is a great destination in the Municipality of Dumaran stunning Islands and white sandy beaches.
A paradise for swimming, snorkeling, and diving.
Delve into its astounding underwater scenery as you get the chance to swim with fishes of various kinds and other underwater creatures you would definitely love to interact with.
Queen Coral
The Queen Coral is seemingly bottomless of the ocean with incredible underwater treasures at the shallow part of its waters that are definitely worth your time and pesos.
It was named as the Queen Coral because it has an abundant number of corals in it. Some boatmen even use 'coral saver', a square-shaped structure made of bamboo with buoys in every corner for guests to hold onto while snorkeling.
Renambacan Island is just one of Dumaran's many islands where relaxation and enjoyment can both be achieved without going far from its shore.
Renambacan Island offers powdery white sands and healthy fringing, majestic reefs that serves as home to various kinds of fishes which makes it perfect for snorkeling. It has clear blue crystalline waters that will definitely encourage you to go for a swim and take as many underwater photos as you like!
Renambacan Island is the perfect place for beach lovers, swimming, snorkeling, and even overnight camping! What else would you wish for?!