skip the over-Crowded areas of El Nido and Coron in the north of Palawan and instead head south, to the Balabac Islands.
Nestled at the southwest and southern tip of Palawan is the Balabac group of islands
Balabac is a group of 36 islands, many of which are totally uninhabited. You'll find white & pink sandy beaches, vibrantly colored coral, a diverse range of marine life and welcoming locals.
Balabac for tourists is off the beaten track you won't find many other foreigners.
Best Time to Visit
Dry season between April to mid May is the best time. You may also visit Balabac during the months of December to February where it is fairly good. However, these months are also the amihan season in Palawan, which can make the waves particularly rough on the beaches.
Of course, you should also consider the general weather updates whenever you want to schedule your trip.Avoid rainy season between mid-June till October, which is also typhoon season.
Internet get a Smart sim card with a data plan, You can bring your own mobile WI-fi to Balabac for internet access. However, the internet connection in Balabac is intermittent so most of the time, it'll be hard to establish a decent connection. Call and text functions are also available but most of the islands in Balabac don't always have good signals.
There is no ATM in Balabac, and establishments only accept cash. The nearest ATM is located at the town of Rio Tuba.
Top Things To Discover in and About Balabac
Location

Situated in the rich water of Sulu Sea, Balabac is a group of 36 islands and islets blessed with unspoiled fine sandy beaches, endemic flora and fauna and rich marine life.
Balabac, officially the Municipality of Balabac, is a 2nd class municipality in the province of Palawan, Philippines. According to the 2015 census, it has a population of 40,142 people.
It is the last of the last frontier, set in the congruity of the Molbog tribe and the local people.
Balabac
Is one of, if not the most diverse and dense bio-diversities in the world.
It is home to endemic mouse deer known locally as pilandok, countless species of endemic and migratory birds, rare plants and insects, 27 true and 34 associated species of mangrove.
Giant Sulu Sea Pearls and variety of marine species such as sharks, dolphins, tuna, whales, rays, sea turtles and so much more to discover!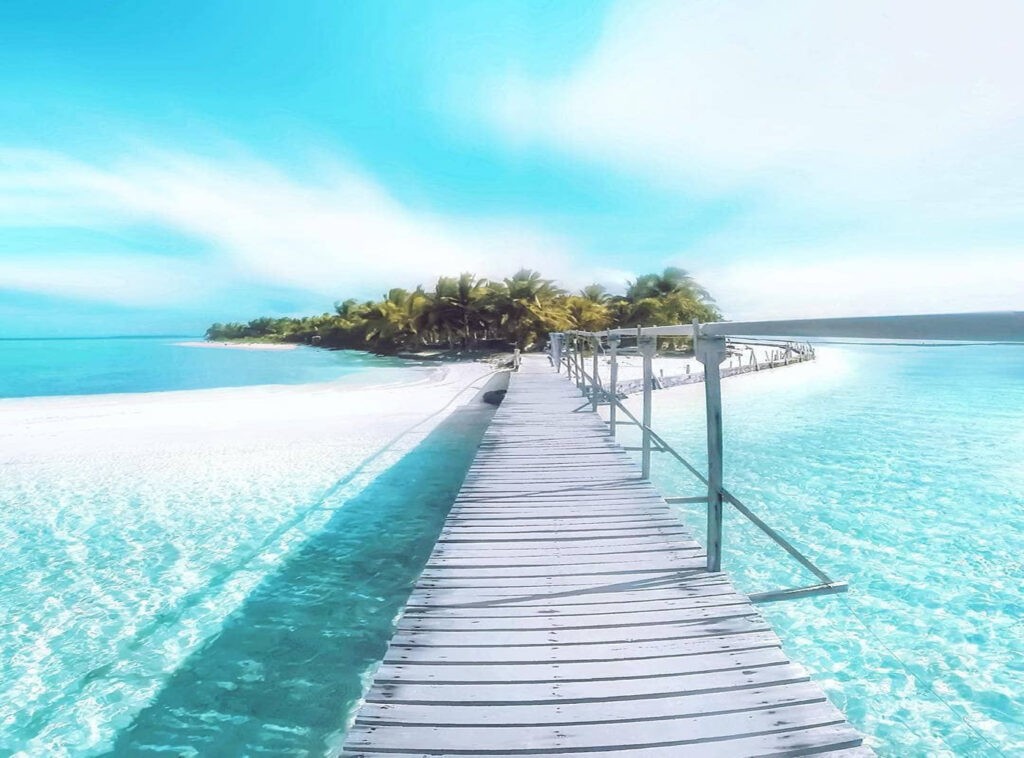 Onuk Island

(also spelled as Onok Island)
It was originally featured in the winning photo of George Tapan for the National Geographic Channel. Today, it's one of the highlights when visiting Balabac.
Onuk Island has few rooms to accommodate guests.
You can also set up a hammock in the cottages or pitch a tent in the camping ground.
There is a common CR in the camping ground.
Snorkel. There's a snorkeling area in front of the island where you can see a variety of marine life and giant clams.
You can also go to the nearby Roughton Reef.
Make sure to bring your own snorkel and fins.
There are also sea turtles in Onuk Island, but you can only see them during high tide which is usually in the morning.
The sea turtles come to feed on the sea grass.
Watch out for bioluminescent planktons.
You can see then among the sand at night.
There is no store on the island. Bring everything that you need when you visit.
There is electricity from 6PM to 6AM only. During this time, you can charge your gadgets.
There is limited freshwater stock for washing up. If there are rains prior to your visit, the water tanks may be full.
There is weak mobile signal in the island.
The island is privately owned by the family of the Mayor of Balabac and prior arrangement is necessary for tourists visiting or staying in the island.
Packaged tour to Balabac via Gala PH. Gala PH offers joiner tours (scheduled dates) or exclusive tours (min 10 pax) to Balabac, Palawan.
Cape Melville Lighthouse – Balabac Island

Cape Melville Lighthouse was the first-order light constructed by the Spaniards to light Balabac Strait.
The treacherous body of water that separates the Philippines from its neighboring country of Malaysia.
The light is displayed from a 90-foot-tall (27.4 m) granite tower located on a hill 1.5 miles northwestward of the tip of Cape Melville, for a total elevation of 297 feet (90.5m) above sea level.
The station was built by the Spanish Government as part of their extensive lighting plan for the archipelago.
The lighthouse of Cape Melville was first lit on August 30, 1892.
Cape Melville Lighthouse today is no longer in service.
You can go up to the top for a breathtaking view overlooking Balabac Strait.
If the sky is clear, you might lucky and even get to see the peak of Mt. Kinabalu in Borneo Island.
Patawan Island
The small island of Patawan, which can be circumnavigated in 10 minutes, is one that has pink-tinged sands because of the presence of red organ pipe corals in the area. Its clear waters are only few inches deep and its seabed are splattered with soft sands.
This place is also suitable for camping.
 Island Hopping
Local Island Hopping tours for you  to go on.
You may charter a boat from the locals but there is no standard tariff for boat rental, rate depends on boat capacity and distance of travel but it usually starts at 1500PHP – 5000 PHP per day for a boat that could fit a maximum of six passengers, meals not included.
Entrance fees to the islands are between 50-150 PHP most of them. Except Onuk Island which goes from 1500 PHP spending the day to 2500 PHP
See below for 2 local Operators to checkout.
Comiran Island
Located south of the famous Onuk Island, Comiran Island is a small privately owned uninhabited island surrounded by fine mix of crush red and white corals, its unique and rare beauty sets it apart from the others.
There are chunks of red corals on the beach that make the sand look pinkish. The red corals known as organ pipe corals (Tubipora musica) when crushed through time blend well with the white sand making it look like color pink specially on broad daylight.
Truly Stunning!
Punta Sebaring.
On Bugsuk Islands southern tip
Off the beaten track and remote but you will be hard pressed to find a more perfect fine white sandy beach, and you will most likely be the only one there.
The beach is dotted with mangroves and serves as playground for wild monkeys. You might be lucky enough, to chance upon mousedeers that occasionally laze along the shore. These mousedeers dwell in the woods in the interior of the island.
Turquoise and crystal clear water, warm and calm on summer days but roaring during monsoons.
There is no commercial establishment on the island…
Mobile signal is also non existent
A perfect castaway Instagram moment.
A great place to stay!
One may pitch a tent or stay in the cottage owned by the family of Sir Renato Principe for a minimal fee.+639291403125 for schedule and rates.
Snorkeling
You have to try snorkeling in Balabac since the water is so clear and you will see a wide variety of marine life and plenty of star fishes.
Bring your own snorkeling gear, In case the Island hopping tour operator does not provided it. 
If you are not bringing snorkeling gear make sure that the tour operator is providing for renting or as part of your package. You can't miss snorkeling in Balabac Island.
The marine life which makes this place extra special, besides the natural beauty of the islands and the incredible white sandy beaches.
Giant clams eels, pipe fish and plenty of colorful tropical fish.
Canibungan Island
Canibungan Island (also spelled Canabungan) is one of the beautiful islands located in the Balabac area.
It stretches along the sea, in a point lined with sand. It is an ideal place for a walk on the beach, or to swim or snorkel. Start planning your trip and discover it through the island hopping tours offered by local organizers in Balabac!
Candaraman Island
The island of Candaraman lies near the mainland of Balabac.
Is a top destination because of the sandbar near it which is call Starsfih Island, teeming with adorable Chocolate Chip Starfish that are countless in number.
The long line of white powdery shore dotted with coconut trees connect to a wide spectacular stretch of sandbar that become exposed during low tides. You can walk across it and witness the colorful starfishes and other marine creatures.
Golden Hour
As for golden hour chasers , Balabac has the best spots for sunrise and sunset; moon-rise as well.
The islands are void of strong light so if it's a new moon, don't forget to capture the Milky-way at around 2:00AM to 3:00AM.
Be warned that most accommodations and facilities in Balabac are pretty basic, some new resorts are opening up as Balabac is getting more visitors.
Pagmaya: A Luxurious 7 Star Beachfront Resort in Balabac, Palawan.
Nestled on a pristine island in the South of Palawan, southeast part of Visayas, explore the once unspoiled paradise that we now call Balabac.
Experience an exclusive beachfront resort where we deliver an unmatched level of comfort and serenity in luxurious resort amenities.
$$
The best route from Manila or Cebu is to fly into Puerto Princesa, International.
Many Flights  are available to Puerto Princesa from Manila it takes about 1.5  hours non stop.
From Manila, Cebu, and Boracay
Price Per Person Staring at 1600 Pesos, book early for a better deal.
Balabac has two airstrips, one in Bugsuk Island and one in Candaraman Island.
Both can accommodate small aircraft's but no commercial airline flies to these airstrips today.
A new airport in the main island of Balabac is planned under Public-Private Partnership program of the government and intended for commercial operation but there is no timeframe set for this project yet.
Operates once a week sailing from Manila to Puerto Princesa & Coron and vice versa.
Price per person starting from 1300. pesos
Rio Tuba in the town of Bataraza is the gateway to Balabac Islands. A public boat departs daily at around noon from Rio Tuba Port to mainland Balabac, travel time is approximately four (4) hours and fare is P450 one-way. Take note that there is no fix schedule of boat departure as it depends on sea condition and passenger traffic. It is best to be there as early as 10AM.
Departing Balabac, catch the daily boat to Rio Tuba that leaves at around noon. Like the Rio Tuba to Balabac boat, there is no fix schedule of departure for it depends on sea condition and passenger traffic.
From the Airport or your Hotel you will need to make your way to Rio Tuba port or Buliluyan port and then ride a boat to Balabac depending on your choice of Transportation, You can rent a car, Van or Motorcycle. Most people take a shuttle Van or the bus.
You can take a shared Van or a Private Van for 4 – 5 hrs
Depending on traffic.
The cost is approximately
600p – 700p. per person.
Private Van : 6000p – 7000p
San Jose Bus Terminal can be reached by tricycle. Distance from the airport to the terminal is 6 km. Cost about 50 — 150 pesos for one-two persons.
Getting Around In Balabac
Since Balabac is still a remote area, your transportation options to get to where you want to go: a tricycle, motorcycle, a bus and or a van.