Top Hotels in Puerto Princesa
Under the new management Voted Best Tourist Hotel in Puerto Princesa 2022 and Voted Friendliest Hotel Staff in Puerto Princesa 2022. It provides comfort stay in very affordable prices range.
Strategically located ten minutes away from the international airport and business center of Puerto Princesa City where you can find  restaurants, malls, bars, banks and offices.
Inclusions :
Bottled Water
Free WIFI Access
Free use of Swimming Pool
Room Features, Amenities, & Services :
Mini Bar32 inches flat screen cabled television
Private bathroom with Hot and Cold water Soap/Shampoo with conditioner
$
In a naturally beautiful island like Palawan it's almost shameful to stay inside, no matter how luxurious your accommodation is. 
Palawan has many different types of Hotels to offer to its visitors to suit all needs and budgets.
Hue Hotels and Resorts Puerto Princesa
Situated in the heart of Puerto Princesa City,
the Hue Hotels and Resorts is the perfect place
for discovering what this beautiful island has to offer.
Inspired by Palawan's lush environment,
this 122-room property prides itself in its
design forward and culturally rooted architecture.
Finally, it's time to bring color to leisure.
Check us out and experience the Hue type of service
that is always looking after U.
$$
Microtel by Wyndham Puerto Princesa
This 50-room hotel is the only international brand beachfront hotel in Puerto Princesa City and is your gateway to fun activities like snorkeling, island hopping, diving, kiteboarding, and dolphin watching. Have a cool swim in the pool or spice up your visit with an
exciting tour of the city.
Enjoy a seamless and memorable experience at Microtel by Wyndham Puerto Princesa.
$$
Highgarden Hotel
Come and visit us at HighGarden Hotel and experience a game of thrones inspired accommodation located at the Junction 1 National Highway, Barangay San Miguel, Puerto Princesa City.
Special Discounts at Affiliated Businesses
50% off  on Sauna & Steam Bath (20 mins) 
20% off on Combination Massage
15% off on Total Bill at Club 200 Restobar & Super Club
5% off on food and drinks at Dampa sa Puerto
Complimentary use of Billiards  & Darts (1 Hour)
Amenities Include
Complimentary Breakfast/ Roundtrip Transfers/Welcome Drinks/Complimentary Wi-Fi/Air Conditioned Room/Hot & Cold Shower
 Best Western Plus The Ivywall Hotel Puerto Princesa
This is a modern hotel situated in the heart of uptown Puerto Princesa with amenities which makes it the perfect place for you if you are on the island for both business or leisure. The hotel is also easily accessible with friendly staffs that will make you feel like a royalty.
Our 120 guest rooms and suites all feature a contemporary Filipino design.
$$
Astoria Palawan Puerto Princesa
13 leaf-inspired, wood cabin-type villas where you can experience comfort and luxury in one of our 40 private rooms and suites. Our annex building also houses 34 spacious rooms with views of the resort's mango orchard.
Astoria Palawan is home to the first and only water-park in Puerto Princesa.
$$
Mongki's Pension House
A quaint Pension House that looks like a hotel in Puerto Princesa without the hotel prices!
One of the best Deals in Town!
Offering 11 rooms from Deluxe, Barkada & Family from a great price starting at  999 pesos, 1299 pesos & 1499 pesos.
12 hrs, daily, weekly and monthly. welcomed ( Big Discount on weekly and monthly stay!)
Room amenities.
1.- 2 btls of water. 2.Split type aircon
3. Hot and cold shower very modern and very clean. soap, shampoo and toilet tissue.  4.Smart tv ( Flat Screen)5. Wifi access
Holiday Suites Palawan Puerto Princesa
As modern as it is comfortable, Holiday Suites Palawan is our response to both the local and international clamor for chic and comfortable accommodation.
The combination of world-class sophistication and Filipino traditional value of hospitality was designed to provide you and your family the best kind of comfort and guest satisfaction only an oasis in the middle of a gorgeous island can provide.
$$$
A  Boutique Hotel in Puerto Princesa without the hotel prices!
Walking distance to Butterfly Garden
One of the best Deals in Town!
Soft Opening for now, with great discounts during their renovation with on going construction.
Price start @ 850 per night
Single Room for 850.00
Double Room for 1,200.00
Triple Room for 1,500.00
VIP Room, Can fit 4 person for only 2,000.00
HOTEL FEATURES & AMENITIES
Free Breakfast
Free Wifi
32″ inches TV w/ Satellite channels
Orthopedic Mattress
Hair Dryer
Guest kit
Coffee/ Tea/Chocolate / Milk
Minibar
Hot & Cold Shower
Split Type Air Conditioner and Fan Room
Sound Proof Double Glazed Windows
Cafe & Bar
24/7 Security
Back-Up Generator
Massage offer( surcharge)
Pick-up/Drop off(surcharge)
Check in Time: 12:00 Noon
Check Out Time : 2:00 Pm
For inquiries pm me directly or call our number 09201125424
or send us email : management@earldeprincesa.com
$
Sheridan Boutique Hotel Puerto Princesa
Sheridan Boutique Hotel is located in the heart of Puerto Princesa City, Palawan, just a few minutes away from the Puerto Princesa International Airport and other major city attractions. Built in 2018, this 32-room hotel offers good value for money for both business and leisure travelers in Palawan.
Enjoy a casual meal or cup of premium coffee at The Cafe Lounge. Open Daily from breakfast to dinner. It's the place to be for good food, great drinks and quick attentive service.
$$
ALVEA HOTEL – Puerto Princesa
Hotel is situated in Puerto Princesa and is only 10 minutes away from the airport, as well as major commercial establishments. It is ideal for both business and leisure travellers who want to enjoy a good night's rest in a bustling city.
Its sixty seven (67) clean, comfortable and elegantly designed rooms are classified into Premier Suite, Deluxe Double, and Deluxe Twin. A coffee shop and restaurant are made available to guests, as well as spacious multi-purpose hall for events and corporate gatherings.
Make the most out of your stay with our free round-trip airport services, welcome drinks, and complimentary breakfast – all these and more when you stay at Alvea.
                                      $$
Is a premier accommodation situated at the center of Palawan's Capital, Along National HighWay, San Pedro.This modern accommodation is located in the Centre of the city, just a 5-8 minute drive away from SM Mall or Robinsons Mall
Welcoming guests with an outdoor swimming pool and free airport shuttle services, Palawan Uno Hotel is located in Puerto Princesa City only a 5-minutes drive away from Puerto Princesa International Airport.
Free multi-network Wi-Fi internet connection access is available in the whole Palawan Uno Hotel facilities.
Rooms at Palawan Uno Hotel come furnished with a mini refrigerator, air conditioning, and a TV with cable channels. All of the rooms include a private bathroom, a safety deposit box, hot and cold shower with free toiletries.
Hotel Palawan Uno houses a restaurant where guests can enjoy a variety of local and international cuisines and convenience there is the massage spa, café for dining and special meetings, and most of all there is BDO bank-ATM.
                                      $$
Hotel Centro Puerto Princesa
Experience Puerto Princesa's natural expanse and live memorable moments in the largest city in the Philippines dubbed as the "City in a Forest" while staying at Hotel Centro Palawan's gracious accommodations and verdant surroundings.
Hotel Centro Palawan is Puerto Princesa's top hotel for tourists and business travelers, offering nothing but the best accommodation, service, and Puerto Princesa tour packages for those who wish to indulge in the tropical paradise that is Palawan.
Built in honor of the island's great ecological diversity and pristine beauty, Hotel Centro Palawan comes to life in 1.2 hectares of secluded paradise with 111 guest rooms, 5 conference venues, and 3 food and beverage outlets found right at the heart of Puerto Princesa City.
$$$
Hibiscus Garden Inn Puerto Princesa
Hibiscus Garden Inn is a boutique hotel that have 14 bedrooms with a swimming pool, a garden lounge, 2 restaurant dining area and air-con room. You can organize birthday party or any others events in one of those area.
Hibiscus Garden Inn is every traveler's hideaway – a relaxing ambience, comfortable and clean accommodation, with warm and friendly people to make your vacation a truly enjoyable one.
$$
Ponce de Leon Garden Resort, Puerto Princesa
With its convenient location, the hotel offers easy access to the city's must-see destinations.
This hotel offers numerous on-site facilities to satisfy even the most discerning guest.
Hotel accommodations have been carefully appointed to the highest degree of comfort and convenience. In some of the rooms, guests can find television LCD/plasma screen, clothes rack, linens, mirror, sofa.
The hotel's recreational facilities, which include dart board, spa, massage, children's playground, garden are designed for escape and relaxation. With an ideal location and facilities to match, Ponce De Leon Garden Resort – Palawan hits the spot in many ways.
$$
Infinite Green Pension
Is situated at 207 Manalo Street, Brgy. Milagrosa, in Puerto Princesa City just 1.1 km from the center. The most proximate Puerto Princesa Airport is placed in 1.7 km from the pension.
We also accept bookings for events, weddings, birthdays, and meetings.
For reservation, you may contact us at our phone number (+63)968-613-5255.
$
Paboreal Boutique Hotel Puerto Princesa

Experience a reassuring sense of privacy, the superb hospitality provided by our attentive and discreet staff.
Here, you will find an intimate and pleasing experience home away from home, where excellence is both a vocation and a promise to those who share an appreciation for a different way of life.
Each room has its own private verandas providing a infinite ocean view.
$$$
Balay Tuko Garden Inn, Puerto Princesa
Balay Tuko is an intimate boutique hotel, decorated in an elegant style with a personal Asian touch.
Relaxing experience with only 15 comfortable & quiet rooms where guests can interact & enjoy our tropical garden or swimming pool.
We offer the usual distractions of billiards, table-tennis, badminton and a small library. You may also like to try your hand at a game of
pétanque
 or enjoy a day 
sailing
 Puerto Princesa bay on one of our boats.
Airport Transfer by request (PHP 350 one-way for 10 seater van)
Complimentary Internet
Wheelchair Access
Free Parking Area
Laundry & Pressing Service
24 Hour Stand-by Generator
$$
Westville Tourist Inn, Puerto Princesa
With its location just 1.9 miles from the city center and 2.8 miles from the airport, this 3-star hotel attracts numerous travelers each year. With its convenient location, the hotel offers easy access to the city's must-see destinations.
The facilities and services provided by Westville Tourist Inn ensure a pleasant stay for guests. Wi-Fi in public areas, car park, airport transfer, car hire, tours are just a few of the facilities that set Westville Tourist Inn apart from other hotels in the city.
Guests can choose from 14 rooms, all of which exude an atmosphere of total peace and harmony. The hotel's recreational facilities, which include massage, karaoke are designed for escape and relaxation. Westville Tourist Inn is a smart choice for travelers to Palawan, offering a relaxed and hassle-free stay every time.
$
Aziza Paradise Hotel
Puerto Princesa
Enjoy the majestic ambiance of the paradise. From room accommodation, food & beverages, events & functions to services we only deliver the best that you truly deserve. Aziza Paradise Hotel is primed to be of service to you.
125 rooms which includes 35 deluxe rooms, 39 family rooms, 2 family suites, 20 superior premier rooms, 2 honeymoon suites and 27 superior twins located in three different buildings namely Cliantha which means "Flower of Glory", Xylia which means "Wood Dweller" and Pomona which means "Fruitful Abundance". Also we have 4 of the best private villas with its own lap pool.
$$
Floral Villarosa Puerto Princesa Palawan
Situated at Villa Rosa Rd. a well-tempt environment, and conveniently just a stone throw away from the airport, restaurants, bars and the city center a great base from which to explore this vibrant city giving to this hotel a charm.
Take advantage of a wealth to its unrivaled services and amenities, while lodging at this wonderful property, guest can enjoy its pool and garden, room service, bar and restaurant and the veranda.
$$
Canvas Boutique Hotel Puerto Princesa
Canvas Boutique Hotel boasts of gorgeous, light-filled spaces in an unbeatable location ~ a two-minute
drive away from the airport, to be exact. Literally the shortest airport-to-hotel transfer in the city. Now
wouldn't that be a treat? To start your adventure as soon as you step out of the terminal?
$$
Deep Forest Garden Hotel Puerto Princesa

Deep Forest Garden Hotel features an outdoor swimming pool and 3 dining options. Free WiFi access and parking is available on-site.
The hotel operates a 24-hour front desk, and guests are able to find a mini store and a pool table. For dining, guests can patronize the al fresco restaurants, or even enjoy cuisines at the fine dining restaurant which is equipped with a wine cellar.
$$
Hotel Fleuris Puerto Princesa
Set at the heart of Puerto Princesa City, Hotel Fleuris is within a few mins to Puerto Princesa International Airport , business and commercial establishments. It is ideal for both business and leisure travelers who enjoy a good night's rest in a bustling city. 
Offering forty seven (47) elegantly furnished rooms classified into Deluxe rooms, suite rooms, Jr. suite room and 1 special room for pwd and/or senior citizen, also with Japanese restaurant, coffee shop, sports bar and piano bar.
$$$
Dolce Vita Hotel Puerto Princesa
Dolce Vita Hotel is a charming Garden Oasis in the booming City of Puerto Princesa.
Located only 10 Minutes from the airport, Dolce Vita Hotel is within reach of all major attractions. The outstanding architecture and unique designed Villa Suites in octagon shape are enchanting to guests, who want to be "surrounded by beauty" and who are tired of staying in ordinary hotels.
Dolce Vita Hotel was originally designed as a private villa of the German owner, with a few Guest rooms to entertain friends from all over the world.
                                      $$
Elmundotel Guest House
Elmundotel Guest House is a cozy, budget-friendly, accessible and good place to stay in heart of Downtown Puerto Princesa.
A 4-minute walk from Immaculate Conception Cathedral and 8 minutes by foot from NCCC Mall Palawan.
This guesthouse is 0.6 mi (1 km) from SM City Puerto Princesa and 0.7 mi (1.1 km) from Mendoza Park.
Take in the views from a garden and make use of amenities such as complimentary wireless Internet access and tour/ticket assistance. Cooked-to-order breakfasts are available daily from 6:00 AM to 9:00 AM for a fee.
Featured amenities include complimentary newspapers in the lobby, dry cleaning/laundry services, and a 24-hour front desk.
A roundtrip airport shuttle is complimentary (available on request). Make yourself at home in one of the 6 air-conditioned guestrooms.
Complimentary wireless Internet access is available to keep you connected. Bathrooms feature showers, complimentary toiletries, and bidets.
$
Dinah's Pension House
El Rancho, Sta. Monica 5300 Puerto Princesa
Comprises 7 rooms and is a 10-minute walk from College of Hospitality.
Type of Rooms Available,
Superior Twin Room, Twin Room
Pool View,King, Queen Room Pool View, 7-Bed Mixed Dormitory Room
You can relax, swim, and celebrate your events at Dinah's Pension House.
$$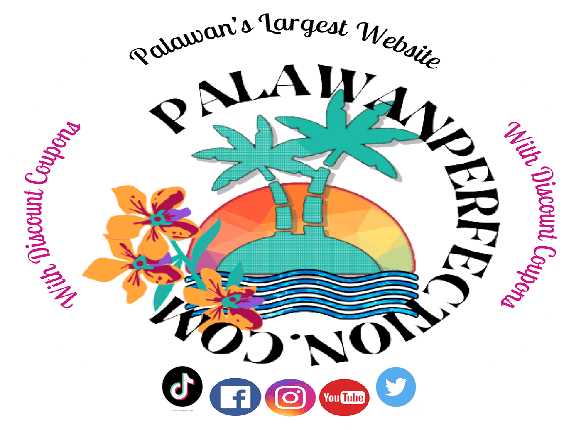 Your Company here for only 1500 pesos (Only 3 pesos a day) per year with social media posts
Offering City Tours, Beach Tours Nagtabon, Pickup and drop offs at Airport & Honda Bay. Prices are the lowest in town.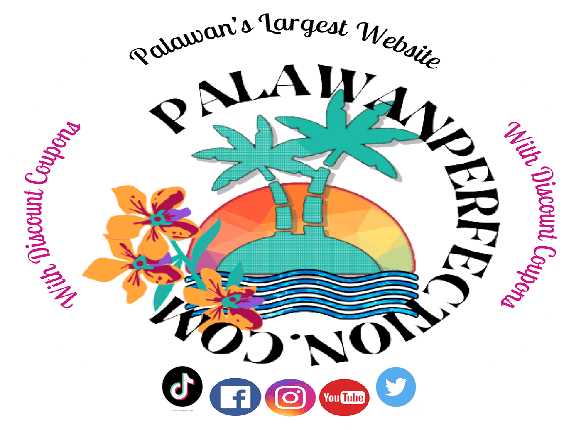 Your Company here for only 1500 pesos (Only 3 pesos a day) per year with social media posts
Offering City Tours, Beach Tours Nagtabon, Pickup and drop offs at Airport & Honda Bay. Prices are the lowest in town.