It's Time to Start Your Adventure
Puerto Princesa is a coastal city on Palawan Island in the western Philippines. It's a base for boat trips through the massive limestone caves and underground river of the biodiverse Puerto Princesa Subterranean River National Park. Dive sites are dotted around Puerto Princesa Bay, home to long-nosed dolphins, turtles and rays. 
Puerto Princesa in Palawan is most famous for the Puerto Princesa Subterranean River National Park or the Underground River, a UNESCO World Heritage site and holds a place in the New 7 Wonders of Nature. … But there's more to Puerto Princesa than being just a jump-off site and location to the famous natural wonder.
Top 12 Things to Discover in Puerto Princesa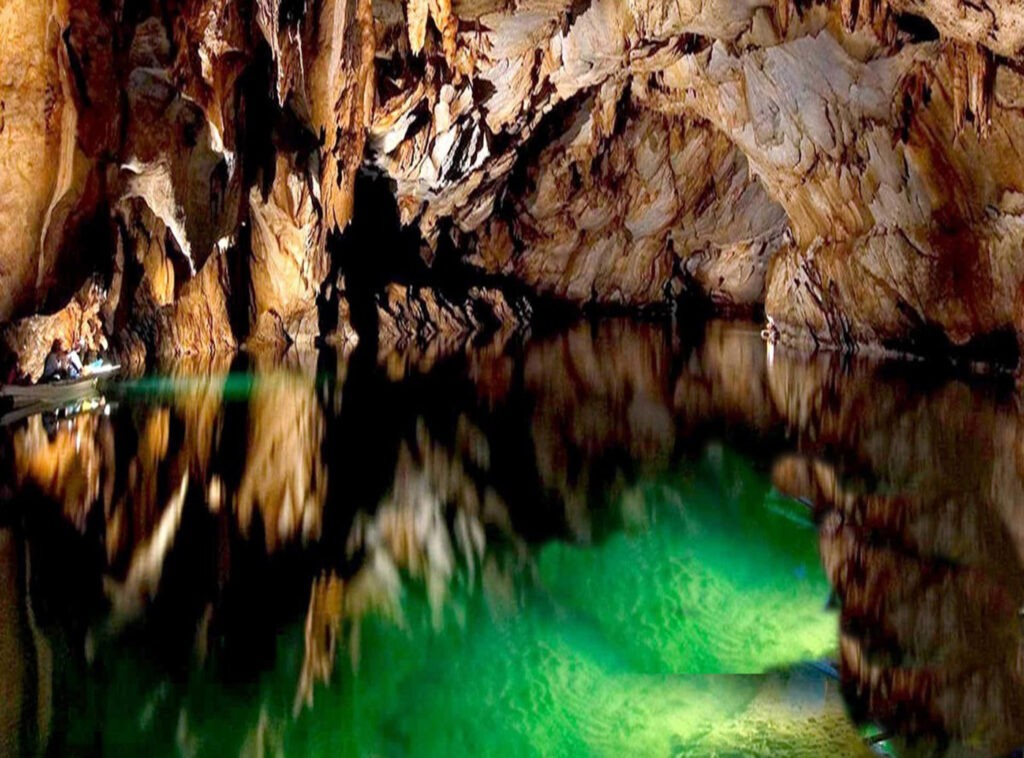 Puerto-Princesa Subterranean River National Park
Added to the new 7 wonders of nature list by UNESCO world heritage sites in 1999. 
Puerto-Princesa Subterranean River National Park encompasses one of the world's most impressive cave systems, featuring spectacular limestone karst landscapes, pristine natural beauty, and intact old-growth forests and distinctive wildlife. It is located in the south-western part of the Philippine Archipelago on the mid western coast of Palawan, approximately 76 km northwest of Puerto Princesa and 360 km southwest of Manila.
Starting from 2300 Pesos per person
Hit the beach in style on this tour of the islands and reefs of Honda Bay from Puerto Princesa. Honda Bay is touted as the Philippines' Last Frontier for its rich marine biodiversity..
Honda Bay – consisting of several islets with beautiful beaches, Honda Bay is the ideal place to go for swimming, diving, snorkeling, island hopping, and beachcombing.
Travelling to Honda Bay from Puerto Princesa city proper will take approximately 30 minutes.
Honda Bay can be visited all year round, however, the best time to go there is during the dry season between November and early May.
Starting from 1800 Pesos per person, (Duration 8 Hours)
Dolphin & Whale Shark Watching
Dolphins are very magical creatures, especially in the wild, and they are very well-known for their acrobatic displays. Watch the dolphins in person, and make your vacation in Palawan, an unforgettable one.
This is a seasonal tour, which is available during the Summer months only (April – October)
Starting from 1500 Pesos
Please be informed that dolphin and whale sharks viewing is NOT guarantee
White sandy beach lapped by clear turquoise crystal clear waters , lined with coconut trees swaying in the breeze, 30 minutes from Puerto Princesa, small bars and restaurants dot the entrance of the beach and great sunsets.
Top of the road before you enter is a great view point to have a cold drink and take some stunning pictures.
Watch Fireflies in Iwahig River and Irawan River
Take a trip to Iwahig River or Irawan River in Puerto Princesa after the sun sets, relax as the boat wades through the mangrove forest, and wait for the thousands of fireflies to make their appearance.
You will board a paddle boats and cruise along the river lined with mangroves and trees where the fireflies live in abundance. To get the best firefly watching experience, flash photography is not allowed, so you don't disturb and scare away the fireflies.
You might also spot glowing plankton on the river and see constellations in the sky. 
Starting from 1400 Pesos ( Duration 4 Hours )
Go Spelunking or Ride a Zipline in Ugong Rock Adventures
The majestic 75-foot high moss-covered limestone formation called Ugong Rock. The word "ugong" refers to the reverberating bell-like sound that's produced when you hit or pound on the walls.
Ugong Rock is part of the UNESCO World Heritage Site, the underground river, and is usually a side tour to complement it. 
Thrilling adventures like spelunking, zip line, rock climbing, zip biking, and base jumping. The activities will also give you a 360-degree view of the landscape.
Palawan Wildlife Reserve and Conservation Centro
About 20-minutes from Puerto Princesa, Palawan Wildlife Rescue and Conservation Center is a refuge for endangered, hurt, or abandoned animals. The center dedicates itself to the education and progression of the animal species thriving here.
The Crocodile Farm, which raises dozens of young crocodiles to adulthood. The species otherwise may struggle to survive past youth in the wild. You'll see some massive Palawan Crocodiles in their habitat, and if you're lucky enough- you'll be there during feeding time.
There are lots of bird species including eagles, hawks, and hornbills as well as an education museum to peak your curiosity.
40 Pesos for adults and there is a 15 minute interval for each guided tour.
Batak Tribal Visit and Jungle Trek
The Batak  are one of the oldest known tribes of the Philippines with a history of trading with the Chinese, which dates back as far as 500AD.
Enrich your cultural knowledge on a private full-day tour of the Bataka Visitor Center from Puerto Princesa City. A great introduction for first time visitors, this tour takes you on a 1.5-hour jungle hike to a tribal village home to the Batak people, indigenous people of the Philippines. Interact with locals and learn about Batak traditions over lunch and refreshments. Hotel pickup and drop-off are included.
From Puerto Princesa City, you will be taken to the Batak Visitor Center some 75 kilometers away. The tribe now resides in the mountains near Puerto Princesa, so expect some areas where the ride could get bumpy.
Please be advised you will be required to pay an Entrance Fee of 100PHP and an Environmental Fee of 40PHP, per person, on arrival. 
Owned by the family of the late Senator Ramon Mitra, this is a popular tourist destination. Located in Sta Monica Heights, this piece of paradise offers a stunning view of Puerto Princesa City. There is a view deck on top of the hill and it's open to everyone who wants to have a relaxing time.
Is open from 6am to 6pm everyday. There are also several activities you can do in the area like horse back riding, ziplining, trampoline and passing a sky bridge (or what they call skywalk). If you wanted to take pictures in the Mitra's mansion.
Entrance fee of 20 Pesos per person
A popular destination in Sta. Monica Heights is the Baker's Hill. Although the site is actually a theme park, Baker's Hill is most famous for the baked goods they offer at a reasonable price. It really started out as a small bakery and then later expanded to become a park.
A snack bar caters to the visitors of the park. They have a variety of snacks to choose from such as pastas, desserts, drinks, soups, and sandwiches. 
I recommend that if you happen to visit Baker's Hill make sure you try their gulaman drink.
No Entrance Fee
Puerto Princesa City Baywalk
A great place to take a stroll and watch the sunset, also hold many of the local Festivals, with great dancing and music. Many places to eat from local food stands to full service restaurants.
Well-known seaside promenade lined with palm trees drawing walkers, bicyclists & joggers.
Entrance fee is Free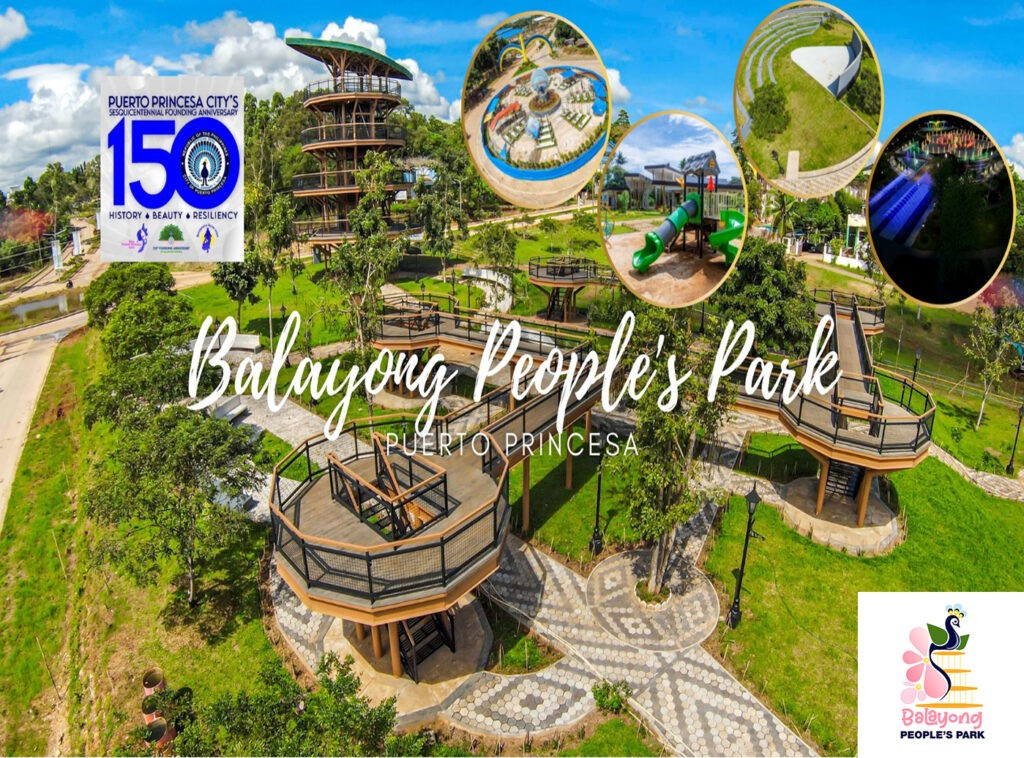 The Balayong People's Park is a community-oriented project that aims to encourage the citizen of Puerto Princesa as well as the visitors of the city from different generations to enjoy and experience the benefits of having an urban tree park.
The Balayong People's Park Project was initialized as part of the Urban Forestry Project to promote the positive effect of a green environment aesthetically as well as promote environment consciousness in the City. Urban trees have various benefits in the environment, economy, health, and the social community. The project intends to make the environment have cleaner and cooler air as it helps in mitigating air pollution, it will enhance economic stability by attracting more tourists, it will promote a healthy lifestyle of the community by doing physical activities outdoor with a greener surrounding, and it will lead to more opportunities for social interaction of the community with the facilities incorporated in the project.
No Entrance Fee
A Taste of Puerto Princesa
How to get to Puerto Princesa
Puerto Princesa City International Airport PPS Arrivals & Departures
Operates once a week sailing from Manila to Puerto Princesa and vice versa.
Price per person starting from 1300. pesos
Multicab Many all Over over Puerto Princesa very Cheap
Multicabs are very inexpensive and easy to get around Puerto Princesa, just flag one down, on National Hwy, or Rizal ave..
You can hire some scooters or motorcycles from local shops if you wish to explore a little bit more and feel adventurous.
Puerto Princesa Accommodation
Hanbees Garden INN
 |
Hanbees Garden INN is
a newly open Tourist Inn here in Puerto Princesa Palawan..
we also make packages for tours..
 Fanta Lodge | Fanta Lodge is located in Puerto Princesa, Palawan offering affordable dorms and private rooms. With complimentary breakfast You will have a peaceful stay in this beautiful place.
Dorms from $3 USD & Private room from $9 USD
Aziza Paradise Hotel | Living up to its name, Aziza Paradise Hotel in Puerto Princesa, Palawan, Philippines gives a taste of a lush and carefree haven through nature-inspired interiors, excellent service, and eco-friendly practices.
Best Western Plus The Ivywall Hotel  |Best Western Plus The Ivywall Hotel This is a modern hotel situated in the heart of uptown Puerto Princesa with amenities which makes it the perfect place for you if you are on the island for both business or leisure. The hotel is also easily accessible with friendly staff that will make you feel like royalty.
Daluyon Beach and Mountain Resort I Daluyon Beach and Mountain Resort gives you the best of both worlds: being close to nature with the beach just a few steps away and modern comforts right at your fingertips.
We have 25 well-appointed rooms and beachfront cabanas done in a contemporary native design that brings the outdoors in – wooden doors and window slats that allow plenty of natural light and air so you can enjoy the beautiful tropical setting throughout your stay. Each room also has a private balcony where you can take in the breathtaking view of Sabang Beach, one of the best beaches in Palawan.
Head for the white sandy beaches, make a beeline for many island hopping tours or soak up beach cafe culture in a friendly town. Diverse scenery and unique culture mean there is a wide range of distinct places to visit in Puerto Princesa
Voted for the fourth year in a row as the Worlds Best Island in 2020, by T&L magazine and in the top diving destinations in the world
Palawan consists of 1,780 islands of pristine white beaches, dramatic rock formations, secret coves, and underground mysteries. An untamed land, a nature lover's paradise, and an adventurer's dream: 
Palawan certainly lives up to its image as the last frontier, what are you waiting for?