It's Time to Start Your Adventure
Port Barton is a small coastal village on the west coast of Palawan, between Puerto Princesa and El Nido. Together with its accompanying pristine islands, it has become a popular choice for adventurous travelers who appreciate and enjoy the remote location, natural beauty, and the relaxed, friendly atmosphere this peaceful beachside village, at the edge of a rainforest, has to offer
Top Things to Do in Port Barton
Port Barton Island Hopping
Tour A is the most popular option and includes six stops – Twin Reef, Wide Reef, Inoladoan or German Island, Turtle Place, Exotic Beach and Starfish Sandbar. Most stops are around 40 minutes except for Inoladoan where you'll be given a few hours to relax on the beach while lunch is being prepared.
Tours B, C and D each have slight differences to focus more on snorkelling spots, beautiful beaches, waterfalls or local villages.
Cost:  1,200₱  including lunch, snorkel and island fees. I had seen a range of prices listed online but it seems that the cost of tours are now standardized across all agencies. you can also book a customized private tour for around 7,000₱  for the boat.
You'll also need to pay a 50₱ environmental fee.
PAMUAYAN FALLS
The falls are located 5 km from Port Barton. The waterfall itself is not huge, but it's a lovely spot for a morning hike through the forest and offers up a refreshing spot for a dip.
To get there, you can either walk the 3 km along the new road before entering the forest or take a tricycle (around 150₱. If you wish to walk, start at the beach and walk to the far end where you'll emerge at the road. Turn right and shortly you'll see a rocky track leading off to the left. You can either stick to the main road or follow this dirt track which is more direct and will lead you past a cemetery before linking back to the main road.
From here, it's just 1 km downhill along the newly built road where eventually you'll see an obvious dirt road veering right which you'll need to take.
Kayak  |  It takes around 40 minutes to paddle across to White Beach, though expect to make a few photo stops along the way.Kayak rental costs around 500/700₱ per day for single/double kayak, or you can ask for a discount for half day or hourly rental. you can rent from El Busero Inn located right on the beachfront or PaoPao Kayak Rental also has a small stall set up near the Jambalaya Cafe.
Boat   |  Boat prices are set across town and you can either visit White Beach as a standalone outing or add it onto a longer beach hopping trip. Boat trips to White Beach cost 150/300₱  one-way/return per person. Customized itineraries can be negotiated with the captain.
Walk + Bike  |  From the town center, take the quiet street heading east of town, past Michaella's Guesthouse and Russell Place. It's 4 km each way with a few small bungalows set beside the water. Scooters can be rented for around 600₱  per day in town.
Top Rated Restaurants & Bars in Port Barton
El Dorado Sunset Resort A very affordable resort and the best spot to view the sunset at Port Barton San Vicente, Palawan.
Elsa's Beach Resort A relaxing beach front resort, has restaurant that serves delish menu; caters island hopping, special events, and arranging land trips.
Port Barton Accommodation
Coco Rico Hostel  |  Of course, it wouldn't be a Palawan beach town without a token party hostel and Coco Rico is that place. Set in the heart of town, this hostel offers clean and spacious rooms and has a bar and terrace area where nightly social events are held.
Russell Place  |  This chilled-out hostel sits a short walk from the center along the road to White Beach. Beds are enormous and include a light, fan and shelf for each bed. There's also an open-air common area, basic guest kitchen and they can help you organize tours and transport for the same price as anywhere in town.
V.Villas  |  This collection of bungalows set around a lush garden receives great reviews. You'll find hot showers here – a rarity in Port Barton.
Santa Claus Hilltop  |  Set a short way back from the beach, this family-run B&B offers up wonderful views of Port Barton and the bay. Rooms are simple but include an excellent breakfast and receives consistently high ratings.
Secret Paradise Resort & Turtle Sanctuary is Palawan's Premier Eco-friendly resort, set in 2 private coves with a 4.1km coastline, lined with coconut trees and 4 private beaches with its own waterfalls
Set in one of the largest unspoiled secluded coves in Palawan (118 hectares), surrounded on the north, east and south by tropical forest. To the west, open sea where we get 'Breath-taking Sunsets'.
Angels Hautz Resort is an excellent choice for travelers visiting Port Barton, offering a budget friendly environment alongside many helpful amenities designed to enhance your stay.
Rooms at Angels Hautz Resort offer a mosquito net providing exceptional comfort and convenience, and guests can go online with free wifi.
How to get to Port Barton
When traveling the 160 km distance from Puerto Princesa to Port Barton, you can take the Cherry bus for 4 hours or the van for 3 hours. Fares range from 250 PHP to 400 PHP. 
Shuttle Van
The van is the most convenient way to go from Port Barton to Puerto Princesa.
Can be arranged with your Front Desk Clerk and the San Jose Terminal.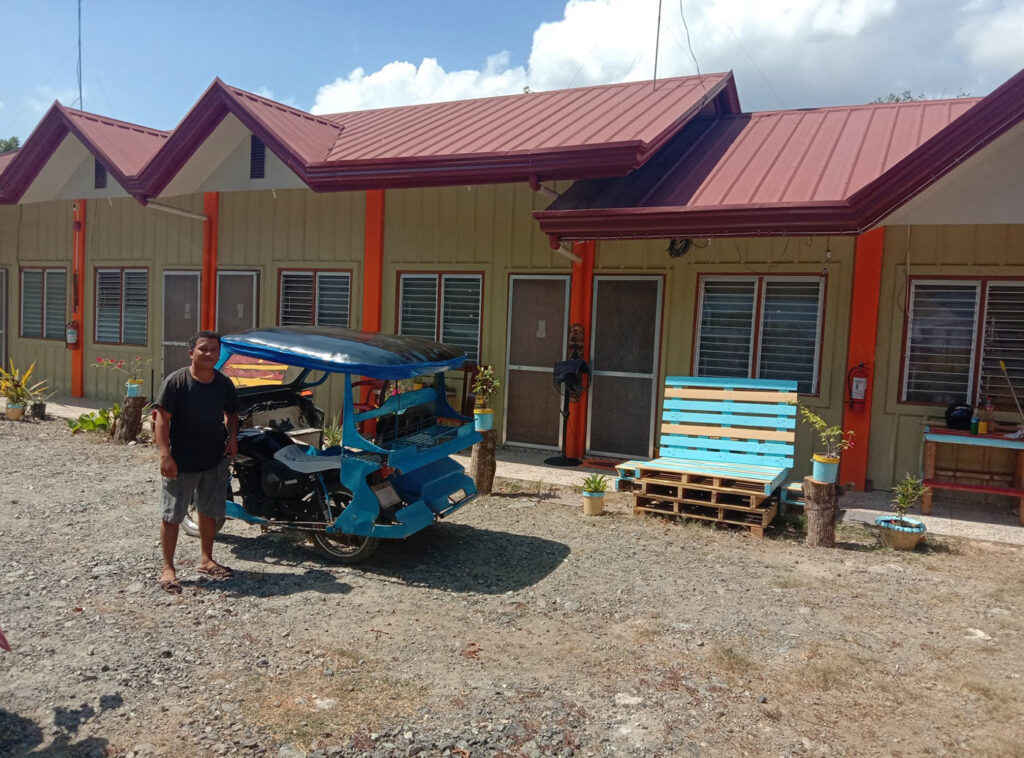 Getting around Town
You can also hire a Trike from the minibus drop-off point to your hotel.
Head for the white sandy beaches, make a beeline for many island hopping tours or soak up beach cafe culture in a friendly town. Diverse scenery and unique culture mean there is a wide range of distinct places to visit in Port Barton.
Voted for the fourth year in a row as the Worlds Best Island in 2020, by T&L magazine and in the top diving destinations in the world
Port Barton consists  of pristine white sandy beaches, dramatic rock formations and secret coves. An untamed land, a nature lover's paradise, and an adventurer's dream: 
Port Barton certainly lives up to its image as the last frontier, what are you waiting for?